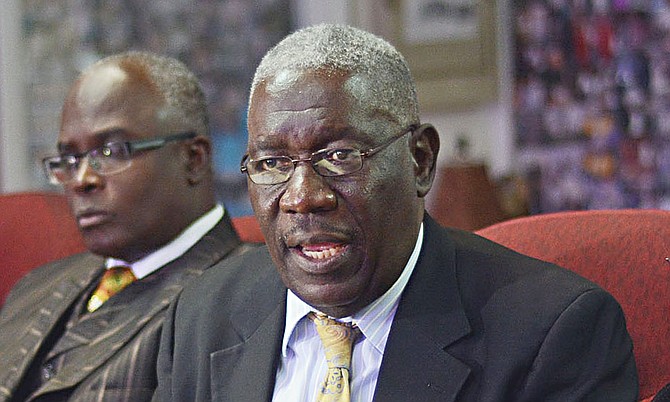 By AVA TURNQUEST
Tribune Chief Reporter
aturnquest@tribunemedia.net
BISHOP Simeon Hall yesterday defended his position on the government's marijuana committee, reiterating his belief in the medical benefits of the plant.
Bishop Hall said while he has not experienced any negativity from the religious community, he anticipates the intense stigma associated with the plant will lead people to question his involvement.
Bishop Hall said: "Some people might have a difficulty using the word pastor and marijuana in the same sentence but I'm there as somebody that believes medicinal marijuana can help people with chronic illnesses. We all need to look again at traditional medicine, which have so many side effects that is killing our people.
"Some people are asking how could a Christian pastor get involved with marijuana, all I say to them is do a study on the marijuana issue and you will see it has medicinal qualities and that's my angle, for people to have an alternative."
The government committee will be given the task of reviewing CARICOM's report calling for an end to marijuana prohibition, and to explore public opinion through widespread town-hall meetings.
"I'm looking forward to the work of the committee," Bishop Hall said. "I shall do my best to make a contribution. People need not be confused because a pastor is working with the item of marijuana. There is no confusion there, my angle is I want to help people who are physically ill and can't afford to go to doctors.
"You shouldn't have to die because you can't get medicine. It's too expensive that's why I'm there. I learned when I was dealing with the CLICO insurance debacle and it pushed me to this point where I'm asking what's the alternative to traditional medicine."
Bishop Hall added: "The most I want to say is, I'm looking forward and appreciate being named to the commission whenever it's put in place. I shall do my best."
During an interview with The Tribune, Bishop Hall also reiterated his call for the country's best minds to collaborate on solutions to national issues irrespective of political affiliation.
"The problems that we face," he said, "be they social, or economic, or religious whatever the problems we face, the best minds in the country must come forward . . . the problems we face will not be solved by only the FNM or only the PLP. We need to bring forth Bahamians and let them work to try and ameliorate the problems we face."