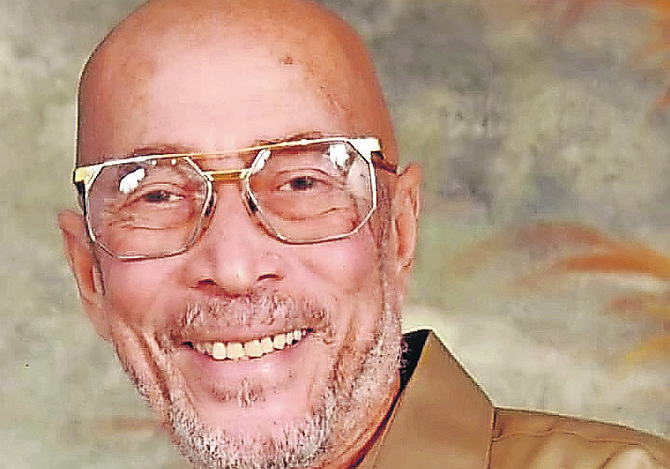 CELEBRATED playwright, poet and actor James Catalyn died on Saturday, prompting an outpouring of sympathy from the cultural community.
Catalyn was 78.
In 2016, he was given a Queen's Honour and was named as an officer of the Most Excellent Order of the British Empire.
According to his website, Catalyn began writing poetry at age 16.
He received his early training in dramatic studies at the University of the West Indies, as well as the Sammy Dyer School of Theatre and Stage One, both in Chicago, Illinois.
He founded 'James Catalyn & Friends' in December 1979, after he was invited by the Broadcasting Corporation of the Bahamas to perform in the television series "An Evening With..." on ZNS TV13.
His popular plays focused on political and social satire with a heavy use of Bahamian dialect. His theatre group traditionally staged two "Summer Madness" productions annually, during June and September, at the Dundas Centre for the Performing Arts.
Progressive Liberal Party Leader Philip Davis expressed sorrow over Catalyn's death on behalf of his party.
"He was one of our stalwart councillors," Mr Davis said in a statement.
"He had a biting wit which he took to the stage helping us to laugh at ourselves, often using the vernacular 'laughing at wesef (sic).' It's ironic that he passed away at a time proximate to the annual Summer Madness at the Dundas. The Dundas and Summer's End will never be the same.
"Of course, James Catalyn had a storied career in the Ministry of Tourism where he brought his talents and patriotism to our country's tourism product. God bless you James. You were a patriot. You made the whole Bahamas laugh. Now it is time to bring that laughter to heaven. On behalf of the entire PLP, our deputy, the chairman, our membership and my wife Ann, I express heartfelt condolences to James' family. May he rest in peace."
Catalyn is a former Ministry of Tourism executive and retired in 2000 after working there for 32 years. His last Facebook post was August 17.
"Good morning all. Today, brighten someone's day. Smile and say a kind word. It'll make your day also," he wrote.
A memorial service will be held on Thursday at 10.30am at Christ Church Cathedral, with Dean Patrick Adderley and Father Colin Humes officiating.
A statement said that there will be no reception, repast or party before or after the memorial, and there will be no photography or video taking during the memorial except for the media.
Tributes can be sent to jamescatalyntributes@gmail.com and condolences will be place on the website http://www.soencouragement.org/jamescatalyn/index.htm.
Among the tributes left on the site, Blayre Catalyn said: "Keep a smile on your face anda song in your heart" is what you'd always say to me and that will stick with me always! Love you so much! I'll always your "miss ting."
Tina Algreen-Moree said: "I had the privilege to call you uncle and loved the years that I had you. You made an impact on everyone you met and was loved beyond limits. It was sad to hear the you went to sleep, I wished I was able to spend a day with you, but I will forever remember the sweet memories that we shared. Sleep in perfect peace."
Vernessa Rahming said: "My uncle lived a wonderful life building our nation through culture, laughter and his wonderful poems. Uncle, you are at peace."
Tod Beneby added: "It is with a sense of profound sadness that I pay homage to one of The Bahamas' greatest creative genius. His ability to create an avenue to bring the creative juices of the average Joe and Jane to make people laugh is completely ingenious. 'Speak Bahamian and only use English when necessary' will continue to be his legacy. A friend to all and a lover of tings Bahamian, a giant of a man."
Desmond Edwards said: "My deepest condolences. James Catalan will be sorely missed. His literary and dramatic works will forever be a part of Bahamian cultural patrimony. May he Rest In Peace."
Shonaray Mackey added: "Thank you so much for giving me the opportunity to utilise one of my gifts in performance. You entrusted me with your baby (the box office). I am was honored and privilege to have worked closely with you. The short time we shared and laughed. The wisdom and knowledge you shared with me are all embedded in my heart. Thank you so much Sir. I am forever grateful."