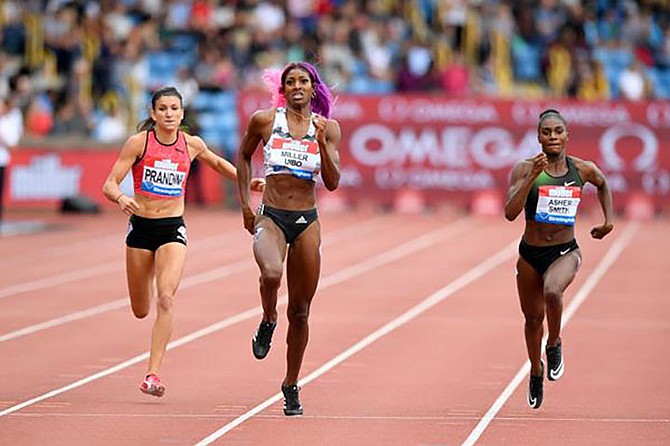 By BRENT STUBBS
Senior Sports Reporter
bstubbs@tribunemedia.net
SHAUNAE Miller-Uibo, running with a heavy heart, relied on some extra external help from her late spiritual leader to boost a fantastic comeback victory in the Muller Grand Prix women's 200 metres as the International Amateur Athletic Federation's Diamond League's 12-race series came to a close on Saturday in Birmingham, England, and with the finals looming in two weeks.
"I want to give God thanks for another win. I want to point out that I dedicated this race to my pastor, Apostle Rodney Roberts from Five Porches," Miller-Uibo told The Tribune after the race. "He always said one day he was going to catch one of my international races and so I knew he was watching me from above and I miss him dearly. May his soul rest in peace."
Miller-Uibo was referring to the late Apostle Roberts, who died on July 25.
Inspired by his death, Miller-Uibo went on to clock 22.15 seconds to eclipse the previous meet record held by American Sanya Richards-Ross of 22.25 from June 11, 2006. In the process, Miller-Uibo executed a well-crafted plan to surge past a talented field of competitors to remain undefeated in three races in the half-lap race to go along with her pairs of victories in her one-lap specialty in the 400m.
"The race went well," said Miller-Uibo, who used her towering 6ft, 1in frame to maneuver from fourth place coming off the final curve with enough real estate ahead of her to chop down Great Britain's world leader, Dina Asher-Smith, who led the race until the closing metres to finish second in 22.31, and Netherlands' world champion Dafne Schippers, who had to settle for third in 22.41.
She was simply spectacular and very colourful.
"My coach said I did a good job, so I'll take that," stated Miller-Uibo, with her long, flowing two-tone pink and purple dyed hair. "As expected, all of the competitors brought their A games as we all knew it was going to be a competitive race."
Asher-Smith was coming off an exceptional European Championships where she dominated the sprints with two world-leading meet records and personal best performances in the 100 and 200m. That carried over in Birmingham where she asserted herself early as the pace setter.
But as she's done all season long, Miller-Uibo, the newly minted Bahamian 400m record holder in her last competition a month ago to add her name to the 200m mark she also possessed from a year ago, accelerated into another gear on the home stretch and nobody was able to catch her as she reverted to the shorter race.
It was Miller-Uibo's third impressive victory this season over Asher-Smith, who is also having an exceptional showing. After pulling off the gold at the Games in the Gold Coast, Australia in April, leaving Asher-Smith with the bronze, the Bahamian outshone the Briton again at the IAAF Diamond League meeting in Rabat last month where they had a 1-2 finish.
"I was working on a few things and we're definitely starting to put it together," she said. "There are still a few things we have to work on, but for my first competition back in four weeks, I think I did a great job and it was a great feeling to be back on the track in yet another great race."
Miller-Uibo, 24, still has some unfinished business to take care of as what is presumably an off-year with neither a IAAF World Championships or Olympic Games on the agenda. She now prepares for the IAAF Diamond League final in Brussels, Belgium, on August 31 where she has qualified for both the 200 and 400m.
Her performance on Saturday has pegged her at number four in the 200m with 24 points after six races were contested in 12 of the Diamond League meetings. Jamaican Shericka Jackson and American Jenna Prandini are tied for the top spot with 28 points. Ivory Coast's double World Championship medalist Marie-Josee Ta Lou is next with 25, just ahead of Miller-Uibo.
In Saturday's race, they finished in that order behind Miller-Uibo as Jackson was fourth in 22.55, Prandini fifth in 22.58 and Ta Lou seventh in 22.88. Americans Gabrielle Thomas and Kyra Jefferson completed the field in sixth and eighth respectively in 22.85 and 23.26.
Miller-Uibo, coming off her stunning 48.97 record-breaking performance in Monaco on July 20. is occupying the fifth spot in the Diamond League 400m with 16 points. Bahrain's rising young star Salwa Eid Naser is out front with 39 points. The USA holds the next three spots with Jessica Beard and Phyllis Francis tied with 32 and Shakima Wimbley with 29.
Last year, as the IAAF changed the outcome of the final where the athletes qualify to compete for the hefty cash prizes in the final, Miller-Uibo emerged as the double champion. This year, the 400m will be contested first and the 200m will follow about one hour and 45 minutes afterwards.
Not even Miller-Uibo is certain if she will contest both events this time around.
"As it relates to the finals, everything is still up in the air and I'll have to speak things over with my manager and coach," she summed up.
Going into the final, Miller-Uibo has posted the fourth fastest time of 22.06 in the 200m, led by Asher-Smith with 21.89 a week ago. But Miller-Uibo heads the 400m list with her 48.97 over Naser's 49.08.
Donald Thomas was also scheduled to compete in Saturday's meet, but he withdrew after his bronze medal performance at the NACAC Championships to go along with his gold at the CAC Games to recuperate for the Diamond League final on August 31 in Brussels. He has qualified tied for third place with 21 points. He has a season's best of 2.32m or 7ft, 7 1/4in.
Not as active as the others, national record holder Steven Gardiner is the only other Bahamian qualified for the Diamond League final where is fifth on the list with 16 points. However, his men's 400m will take on August 30 in Zurich. He goes in with the second fastest time this year of 43.87 behind American Michael Norman, who has ran 43.61.