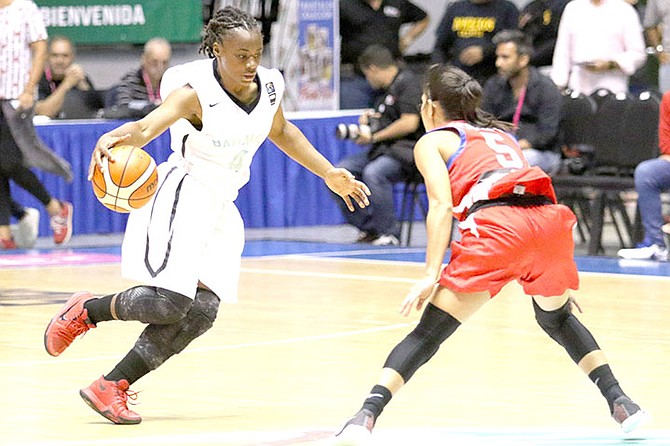 By RENALDO DORSETT
Tribune Sports Reporter
rdorsett@tribunemedia.net
Team Bahamas was on the receiving end of a 45 point rout in the opening game of the 2018 Centrobasket Women's Championship.
The senior national women's basketball team made their tournament debut in a 95-50 loss to the host country last night at the Coliseo Juan Aubin Cruz in Manati, Puerto Rico.
Leashja Grant led the Bahamas with a double double 24 points and 10 rebounds, Sha-Londa Neely scored seven and Ashley Moss finished with a team-high six assists.
Allison Gibson and Jazmon Gwathmey each scored 12 points to lead a balanced scoring attack for Puerto Rico. Eight Puerto Rican players finished with at least eight points.
Tracey Lewis scored the opening basket and Grant followed with a score to give the Bahamas an early 4-0 lead, but Puerto Rico followed with a 15-0 run to pull ahead. Joette Fernander's jumper stopped the Puerto Rico run momentarily. The home team would go ahead by 20 points on a Marie Placido three-pointer for a 30-10 lead with just under one minute left in the opening quarter.
Puerto Rico's dominance continued in the second as the opened the quarter on a 9-2 run. They allowed just seven points in the quarter and took a 46-17 lead into the half. Puerto Rico led 68-34 headed into the fourth quarter and were never threatened in the second half.
The tournament continues through August 24 - the top four finishers will qualify for the FIBA Women's AmeriCup 2019.
The Bahamas is included in Group B along with Costa Rica, Puerto Rico and Mexico. Group A includes Guatemala, Cuba, Virgin Islands, Dominican Republic.
Mexico began Group B play last night with a 77-42 win over Costa Rica. The Bahamas faces Mexico today at 4pm, Costa Rica will follow against Puerto Rico at 6:40 and the night concludes with the Dominican Republic against Cuba.
FIBA Americas President Mr Usie Richards said of the event: "The Centrobasket Women's Championship will be the official start of the road to the FIBA Women's AmeriCup 2019, and we are pleased to announce Puerto Rico as the host of this 2018 edition. Puerto Rico's recent success and future participation in the FIBA Women's Basketball World Cup in September is proof of their commitment to the development of women's basketball in the country and the region. We are more than confident that it will be a great and memorable event."
In June, the Bahamas clinched the bronze medal at the FIBA Caribbean Women's Cup Championships to qualify for the Centrobasket.