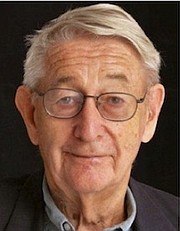 By RICHARD COULSON
The disputed future of the Grand Lucaya Hotel complex is more than a business debate. It could well mark the opening political shot for control of the FNM. Incumbent Prime Minster Hubert Minnis and predecessor Hubert Ingraham have each visibly tied his flag to a radically different solution for the hotel's continued viability - and the future of Grand Bahama.
Grand Lucaya Hotel is no ordinary commercial venture—it symbolises Grand Bahama's success or failure as a tourist destination. Actually three linked hotels (two closed and Lighthouse Point struggling), it provides the back-bone of the island's guest room supply. Although the Freeport Zone enjoys a successful industrial segment, a dynamic tourist industry remains essential for economic growth, affecting cruise ships, airlift, transportation and real estate.
Prime Minister Minnis has now formally announced his government will "buy" Grand Lucaya.
Both he and Tourism Minister D'Aguilar make no bones about loathing this decision since they agree Government should not be in the hotel business. It was "the best of bad choices", necessary to avoid closure of Lighthouse Point, which would not only throw 400 hotel workers on the dole but destroy most demand for Port Lucaya, the bustling complex of restaurants, bars, music and retail shops oriented towards both visitors and locals. The one remaining hotel, privately-owned boutique Pelican Bay, operates smoothly, but cannot by itself support a a thriving Port Lucaya.
Mr D'Aguilar fears a repeat of the Royal Oasis catastrophe, when that once premier hotel closed from hurricane damage in 2004 and never reopened, dragging down the related casino and the International Bazaar, the once colourful shopping district, now a ghost town blighting central Freeport.
Government has been dealing with two uncooperative parties. Hutchison Whampoa, dominant over much of Freeport, never showed any enthusiasm for the business of its hotel subsidiary. Instead of upgrades and maintenance, it has focused solely on the negative step of selling Grand Lucaya for a non-negotiable $65m. The only potential buyer was Canada's Paul Wynn, who after months of expressed interest, walked away from his non-binding Heads of Agreement, preferring to set up on Nassau's Cable Beach, leaving Dr Minnis as the abandoned bride at the altar.
Dr Minnis' firm-jawed decision to buy Lucaya has one major flaw: nobody knows how it will be done. He admitted there is no timeline, merely that the public will be told all "upon closure". Bluntly, that means he has not the foggiest plan what the next steps may be. "Closure" could be months or years down the road.
One scenario might go like this: Government provides enough current cash to keep Lighthouse Point open on a shoe-string basis. It makes a $25m cash down - payment (available from the budget) to Hutchison, who grants a purchase-money mortgage loan for the balance. It then must find a reputable, experienced hotel company prepared to lease or manage the operation — or even buy it outright. On the strength of that name, it borrows the minimum $50m needed to restore the hospitality group to presentable shape for modern tourism. Simultaneously, it negotiates with airlines and travel agencies to assure enough tourism supply for this questionable destination.
Clearly, these steps will demand financial and business expertise of the highest order and cannot be accomplished overnight.

Meanwhile, the Lucaya area will stagnate and Grand Bahama's many other problems will be on the back burner. It's not surprising Dr Minnis' decision has met sharp criticism.
It certainly opened the door for Mr Ingraham to veto the hotel purchase and propose a far more ambitious strategy for growth, one that would revolutionise how Freeport and Grand Bahama are governed.
His manifesto calls for Government to buy out the interests of the St George and Hayward families in the Grand Bahama Port Authority (GBPA) and all their other holdings like DevCo and the Harbour and Airport Companies, acting jointly with a financially capable strategic partner and Bahamian investors.
In effect, the GBPA and the Hawksbill Creek Agreement would vanish. Government and its private partners would establish a new entity "heavily managed and directed by private experts".
Since the death of business leader Edward St George in 2004, the GBPA has floundered, and Mr Ingraham argues that present management by the two families' heirs, though well-meaning, is simply incapable of generating the new investments needed for economic resurrection. "Grand Bahama needs a reset," he summarises.
Much remains to be filled out in Mr Ingraham's strategy. Government itself certainly does not have the funds to compel a buy-out from the reluctant St George and Hayward families, as Hubert knows. But he seems confident of finding the "financially capable strategic partner" to bankroll the deal. Is he already talking with one? What incentives would it demand? How would it coordinate with Government objectives? Where would the new Bahamian investors fit?
Holding no Government position, as an independent, well-connected lawyer with a cadre of willing advisors, Mr Ingraham is free to explore all possibilities. If he can produce a viable scheme to re-energise Grand Bahama, the present administration will have no choice but to listen.
Enjoying a higher level of personal popularity than the often "verbally disadvantaged" Prime Minister still suffering from his Oban missteps, Papa Ingraham may find himself once again a major political figure.
Downtown and Docks must Work Together
Recent conversations with Ed Fields, the energetic leader of Downtown Partnership (DNP) lead to better understanding of the challenges faced by that private sector body in its continuing campaign to improve the entire central Nassau, in particular to rejuvenate Bay Street east of East Street.
In its role as catalyst and planner, DNP has no capital nor approval power of its own. Every major project demands funding from the private sector and the long process of permit-seeking from government departments. DNP is working hard to move the privately funded harbour-front boardwalk towards visible reality and is undertaking other initiatives.
But Mr Fields admits DNP suffers the lack of any over-all development plan, whether created by Government or by some private (probably foreign) investor group.
His words coincided with Tourism Minister D'Aguilar's oft-repeated press laments about the miserable condition of the Prince George Dock reception area and the unappealing tourist amenities offered locally.
These contribute to 80 percent of Nassau cruise passengers staying on board, and another fraction taking an immediate taxi to Atlantis, with minimal economic benefit to our capital city. He refers to a Tourism Port being planned as a public-private partnership, designed to have a major impact on local tourism.
To this observer, a principal source of funds for such an undertaking can only be the cruise lines themselves. Yes, they already pay port fees to dock here and buy a few local supplies, but they must be encouraged to make a capital investment. Carnival, Royal Caribbean, Disney, Holland-American, Regent, Celebrity, MSC and any others should be brought together to make proportional contributions to a vastly improved dock layout and a attractive reception area including Rawson Square and Woodes Rogers Walk. One feature might be electric minibuses shuttling from the ships themselves to several downtown unloading points.
The Tourism Ministry could use a combination carrot and stick policy to persuade cruise lines to cooperate. Reductions in port fees could be offered; coupled with a refusal of any new or expanded Family Island beach mini-ports. In effect, the cruise lines must become true partners in Nassau itself, instead of just earning from passengers who like the ride and then stare down from the upper decks.
The creation of a radically new Tourist Port would fit hand in glove with Ed Fields' long-range ambitions for the DNP. The port area and the rest of downtown, even the Zombie Zone from East Street, can only rise together, not separately.