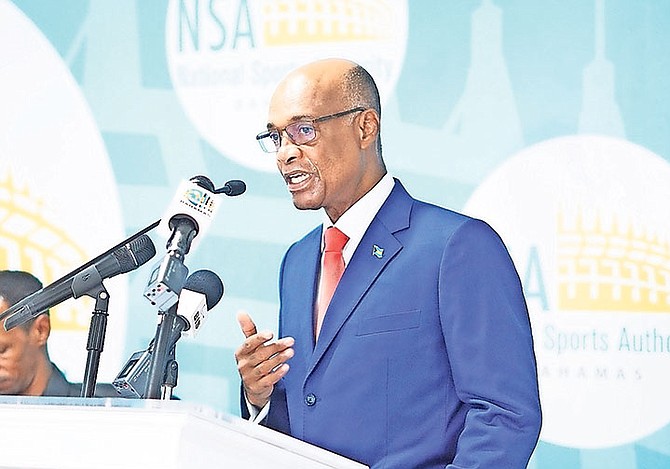 By MORGAN ADDERLEY
Tribune Staff Reporter
madderley@tribunemedia.net 
IN an effort for the Bahamas to attain universal pre-school education, Education Minister Jeff Lloyd yesterday said starting this year, and each year thereafter, 1,000 pre-school students will enter the school system. 
Speaking to educators at the Public School Administrators Conclave 2018, Mr Lloyd said this initiative will be through both the public and private sectors. 
Speaking to reporters on the sidelines of the event, Bahamas Union of Teachers (BUT) President Belinda Wilson said such a programme would be a "challenge".   
Mr Lloyd also said scholarship opportunities will be provided for teachers to attain higher degrees, adding teachers are to be given more money or more benefits, and said a law will be implemented for school curricula to be revised every five years. 
Regarding the teachers' pay, Mrs Wilson called for less rhetoric and more action, and also expressed concern on whether schools will be ready in time for the fall term. 
"This year we are going to add to our rolls 1,000 pre-school students – 1,000," Mr Lloyd said.
He approximated that currently, 6,000 to 7,000 three-year-olds are not receiving proper pre-school education, which he deemed "dangerous" for a country.
Mr Lloyd said his ministry will partner with the private sector for this endeavour.
"And this 1,000 is going to be every year added, from this year on. Until we get to the place of universal pre-school education."
Regarding these comments, Mrs Wilson said: "I wait to see where these students will go, where are the teachers that are going to be provided for those pre-schoolers.
"So I think that is going to be a challenge but I await the information as to how that will happen."
The BUT president made these remarks as she addressed questions about the preparedness of schools for September.
Regarding Oakes Field Primary, which has been the site of renovations, Mrs Wilson said: "The contractors are saying that it will be ready in time for school reopening. They would have to make me a believer because it seems like there is a lot of work to be completed."
As for AF Adderley, she said all the classrooms are ready, but some air-conditioning units must still be installed and there is some carpentry work to be completed.
"So I'm not certain as to whether schools will be ready," she said.
However, Mrs Wilson said the "true litmus test" will be when the teachers and students have returned.
During his remarks, Mr Lloyd also promised that scholarship money will be made available for educators to attain master's degrees and PhDs.
Regarding teachers' pay, he said: "I know we need to make more money. We do, absolutely. And if not more money, more benefits.
"If we want the best in education, we've got to put our money where our mouths are.
"Now I don't expect us to get there overnight…but we must get there. And so we must do so incrementally. "
In response to this, Mrs Wilson discussed the issue of monies owned to teacher.
"My major challenge and problem has been over the years, teachers getting their confirmation, their back pay, reassessment, reclassification, so I'm hoping that this year the four hundred plus teachers that are owed about $3m are paid in this fiscal period.
"So we want our teachers paid and really, I'm really tired of the rhetoric. I want to see action, I want to see execution." 
Mrs Wilson said this will lead to less conflict.
The BUT president also criticised government school tours that are done without the presence of union officials, saying this violates the parties' agreement.
On August 11, Prime Minister Dr Hubert Minnis and Mr Lloyd toured schools and said only one public school, the Eva Hilton Primary, may not be ready on opening day next month.
The fact that the union was not invited and had to watch the tour on television is one of the issues that creates conflict, she said.
"And so that is where conflict begins," she continued. "What we are saying is if you say that we are partners, if you say we're working together, if our agreement says you should invite us on an official tour, then we expect to be invited so that when you are speaking with the contractors, when we have to make the alternate arrangements or we have to look at alternative sites, the union will be a part and parcel of that.
"That saves grief and stress. But when you go and you do your tour then you go on television and you pontificate then the union has to react," she said.
During yesterday's address, Mr Lloyd also called for curricula to be revised more frequently. 
"We don't have a curriculum that is responsible and adaptable enough to meet the needs of a 21st century Bahamian," he said. "We don't have any standard revision policy. We're going to put in law that the curriculum must be revised every five years." 
He added curricula will be localised and said more technical and vocational subjects should be taught in schools. 
"I believe the better way for us to do that is to make a school a technical vocational school. One in the east, one in the west. That's where we're going."
Regarding technology in schools, Mrs Lloyd said in the entire school system, every school is to be a smart school, and said all students in the pre- and primary schools will receive tablets.
"One hundred and seventy-two schools (are) going to have their internet capabilities by fibre optic and their Wi-Fi. Those tablets will have the lessons on them in pre- and primary schools." He added these devices will feature ways to control programming.
Mr Lloyd also promised that all primary school teachers, teachers' aides and all district superintendents and members of the senior level of administration complexes will receive laptops this year.