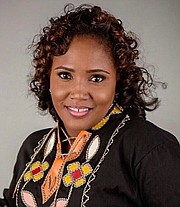 By FELICITY INGRAHAM-DARVILLE
For many years, she was a lead singer in the popular local band "Visage". She has that signature voice you know the moment you hear it – it's soul stirring, deep and meaningful. A few years ago, she became a solo artist and continues to make her mark, not only as one of The Bahamas' beloved entertainers, but as an educator who guides hundreds of Bahamian students in the field of music.
Sonovia Ovette Pierre, affectionately known as "Novie" has toured all over The Bahamas and around the world, singing and taking Bahamian culture with her. She has a commanding stage presence and an approachable nature. She always seems to be smiling and laughing and truly enjoying life. Her popular songs are often played at parties and on the radio, including "Profilin", which adequately describes a common Bahamian regatta experience, "Stray Dog", "Wrong Finger" and "Still Need a Man", which reminds women to value men, no matter how independent they are.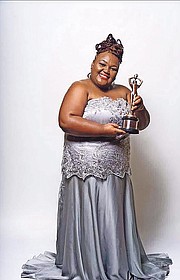 To know Novie is to know that she isn't putting on. She is the same on and off stage – boldly approaching life's goals and challenges and doing it with a big smile. I have known her for most of my life. But when I sat down with Novie for this Face to Face, I learned even more and became even more inspired by her life and her journey.
Novie was born to Barbara Jean Thurston and Ovide Pierre, but when she was just two days old, her grandmother Christina Clarke-Thurston took her home from the hospital and raised her from that day on until the day of her death. She felt Barbara Jean was too young - 18 at the time - and so Novie became her baby. This created a bond that everyone around them could see as she put her spirit into this child. That spirit was one of a hard-working, God-fearing woman and a great cook and baker with such an immense love for family that many called her home theirs as well.
She first attended Mable Walker Primary School, then SC McPherson before graduating from AF Adderley. During these years, Novie's life was filled with church activities as her grandmother, a Pentecostal devotee, attended church almost every day of the week. Church life was Bible study, foot washing services, night watch services and concerts. She went on to the College of The Bahamas, followed by Florida Atlantic University where she attained a Bachelor's in music education with emphasis on voice, pedagogy, choral conducting and arranging. At Vandercook College, Novie attained a Master's Degree in music education and music composition. Her college education was funded in several ways. She won the Miss Bahamas Talented Teen competition with Mrs Annie Russell which opened many doors, including a four-year scholarship from City Markets, and she also won scholarships from the Lyford Cay Foundation and the Nassau Music Society.
Music was always in her life. Not only because of her deep exposure in church, but because her uncle John Thurston is a noted musician.
"We always had a piano or some kind of instrument in the house," she recalled.
"Uncle John was the musician, always singing and Uncle Jimmy (his twin brother James, now deceased) was the intellectual who always helped me with my homework. Rehearsal was always going on in the house. Uncle John was always practicing or writing songs and musicians were always in and out of the house."
Great artists like Abigail Charlow, Snooky, Falcon Watson and many others were always in and out of Mama Christina's home and were well-known to Novie, but it was not until she became an adult that she understood the importance of these musicians and their contributions to society.
"I was no more than four years old when he played something on the piano and said when I come back, I want you to be able to play it… when he came back, I could play it. I was four years old when he gave me this music. I don't know how I was able to look at the music and read it, but I did. The song was "You Light Up My Life". I used to sing in church and Uncle John would play the guitar. When I was born and I came home from the hospital, I heard music."
Her first formal music lesson was with Paul and Tanya Hanna at the age of ten and for two years they would come to her grandmother's house and taught her practical piano lessons. Her Uncle John funded the lessons and served like a father figure to her, as he and Uncle James were the only men of the house. He went on to be married to my aunt, Italia and have children of his own but, before this time, Novie had the opportunity to be nurtured by him with a talent that has brought her this far in life.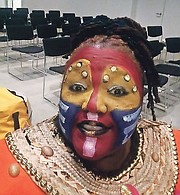 Her grandmother would always encourage her to sing in church and would "brag and boast" about her Novie. Christina's elder daughters, Era Henry and Althea Sands were already married and out of the home, and her Aunt Eleanor Woodside had moved to Florida.
Novie and her grandmother were so close that from just days after her birth until she was 18 and went abroad to further her studies, she slept in the back of the bed behind her grandmother.
"It was scary at first being away from grammy," she confided.
"I used to travel with her to visit Aunt Eleanor, but when I went to college, it was my first time on my own fending for myself and being in a bed by myself. I begged Aunt Eleanor's daughter (Bernette) to come and stay with me and she did so for the first weekend before classes started. I will never forget it. I left a couple of days before a major hurricane hit The Bahamas. The Free National Movement had just won the government for the first time, just before the hurricane hit."
It was August 19, 1992, when the hurricane resulted in Novie being stuck in Florida where she had a chance to stay with her Aunt Eleanor's family and ask Bernette to come.
"I was on my own for the first time in my life. I had joined Visage band in 1992 but I was much more shy than I am now. Even in COB and at the Dundas Centre for the Performing Arts, I was sheltered. I was under the tutelage of greats like Pauline Glasby, Audrey Dean-Wright, Cleophas Adderley, Keva Bethel and Winston Saunders (a pioneer in Bahamian theatre)."
Novie, however, adjusted quickly, remaining focused because of the immense obligations on her shoulders. Her grandmother was not working and she had to work to take care of herself while maintaining a GPA that would meet scholarships standards.
Novie recalls never really having a college social life because every weekend, she flew home to Nassau to perform with Visage to make her money before flying back on a Sunday evening to get ready for the next week of school. At the time, Novie would pay for a shared taxi to return to school from the airport. That taxi was a limo, so her fellow students always thought she was living the superstar life. But for her, it was a real commitment that included studying every spare moment she could, working hard to pay for her additional expenses, and giving up the fun and frolic that other college students knew.
Novie even gave up her summers and travelled extensively with the Bahamas National Youth Choir and Cleophas Adderley, performing with Visage, led by Obie Pindling who pushed her every step of the way.
Two years after heading off on her own, her grandmother died: "It was the hardest semester for me. I was taking 18 credits that semester and I had made the Dean's list. I was 22 years old and it was hard for me."
Novie put her efforts completely into the band, the choir and into mentoring girls for Miss Bahamas Talented Teen, and went on without a social life all these years. After graduating she became a full-time music teacher, starting out at Uriah McPhee Primary School. She spent nine years teaching at LW Young high school before being transferred to CH Reeves, then CC Sweeting and Albury Sayle before becoming a part-time professor at COB, now the University of The Bahamas where she is today.
In 2012, Novie decided to leave Visage and launch her solo career.
"I had to walk away and that was the hardest thing to do," she said.
"I basically found myself in Visage. I started at age 19 and left when I was 41. I didn't have Obie as the cushion anymore. He booked the gigs and did everything; now I have to fend for myself. In the first year after leaving I went into a bit of depression, I was having health problems and it was getting progressively worse. I think I lost my way for a while. I put on a whole lot of weight and my life became pain."
Eventually, she found her way, started working out, getting fit and picking up performing gigs. She performed for Carnival events and participated in music masters, where she released her own singles.
Novie faced her health challenges boldly when in December 2016, she had major surgery followed by another in December 2017. At the same time, she continued to be an adoptive mother to three girls, Ruth, Donella and Diana.
Today, Novie seems to have a new lease on life. She recently released the song "Born to Love this Country". The song was inspired by three blind students she taught from the Salvation Army School for the Blind.
"These boys just loved music and I wrote this song through the experience of a blind child, which is why the song says 'I will lift up my head and feel the sun through the branches of the Lignum Vitae and hear the horn from the boat coming in the harbour," she said.
"This is what national pride should be about; being proud to be a Bahamian whether you are black or white, disabled or disfigured, I wrote it for them because I feel they have a voice. We need to forget color and party politics. The country is broken and needs to be fixed. We must remember we are Bahamian and love who we are and fix ourselves."