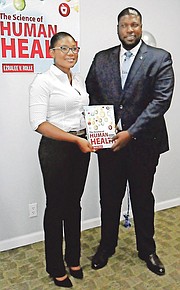 By JEFFARAH GIBSON
Tribune Features Writer
jgibson@tribunemedia.net
FRUSTRATED with health science textbooks that are lacking in readability, accuracy, clarity of diagrams and overall appeal, Bahamian educator Ezralee Rolle decided to write her own book.
Ms Rolle oftentimes found in class that her students were disengaged and relied heavily on their teachers to provide insight. She knew the manner in which information was presented to them in the textbooks needed some revamping. So she began writing "The Science of Human Health" textbook to fill the gaps and give students the information they need in a way that engages their minds.
Ms Rolle, a biology/environmental science lecturer at the Bahamas Agriculture and Marine Science Institute (BAMSI). started the book in the Summer of 2016. A launch was recently held at Chapter One Bookstore for the completed work and Ms Rolle also introduced the companion workbook to be used by grades seven to nine preparing for their BJCs.
She hopes that students will build a strong scientific aptitude through her books, using the information to make better nutrition and health decisions for themselves and their families.
"I wrote 'The Science of Human Health' to engage the reader with vivid images and diagrams, probing and thought-provoking questions, and to provide a format that is both attractive and easy to follow that seems to be lacking in current texts," she told Tribune Health.
"My goal was to write and publish a textbook that is tailored to the health science BJC curriculum, creating a more meaningful experience for students as they learn about their bodies; how it works and the internal and external factors that affect it."
"The Science of Human Health" is designed for the Ministry of Education's health science curriculum as well as the testing and evaluation syllabus. Health science is a three-year course of study for junior high students.
The book covers a plethora topics related to health science, including a focus on the various systems of the body – immune, muscular, skeleton, excretory, endocrine and more.
"Statistics and information relevant to the Bahamas are not incorporated into textbooks used to teach health science in our schools. During my time teaching health science there were a lot of missed opportunities for students to access and use relevant data from our National Department of Statistics to make meaningful connections between what they are learning and how it impacts our communities," said Ms Rolle.
"By using 'The Science of Human Health', instead of our students quoting international statistics, they can now quote data from the Bahamas and hopefully this encourages dialogue in the classroom on how we can combat rising health challenges."
Ms Rolle praised the Ministry of Education's engagement in this venture.
"To make the information relevant to Bahamian students I sought expert advice from the Ministries of Health and Agriculture to add to my book," said Ms Rolle. As far as possible she used local statistics, providing data that aims to stimulate classroom dialogue and maybe offer solutions for the health problems facing the country.
Offering support to Ms Rolle on the occasion of her official book launch was Carlton Bowleg, MP for North Andros and the Berry Islands and Parliamentary Secretary in the Ministry of Agriculture, who is a long-time family friend. He praised her achievement in publishing "The Science of Human Health" and said he felt it helps support his ministry's message that we should be growing more of our own food so we know what we are eating.
Perry Cunningham, principal of Temple Christian College where Ms Rolle was a teacher, added his congratulations, thanking her for her tireless efforts in making their school an Eco-School – an international programme which is guided by BREEF that teaches students environmental stewardship.
He also encouraged the teachers present to think about authoring books in their subjects as there is a need for Bahamian-written textbooks. "The Science of Human Health" was published by Media Enterprise Ltd.
Ms Rolle attained a Bachelor of Education degree in Biology and Combined Science from the University of the Bahamas and a Master of Science degree in Agriculture and Life Science from Virginia Polytechnic Institute and State University.
"Health science should not be viewed merely as a subject that has to be studied in order to pass an examination. Instead, the study of health science should be viewed introspectively and cause students to examine their own physical, mental and emotional processes," said Ms Rolle.