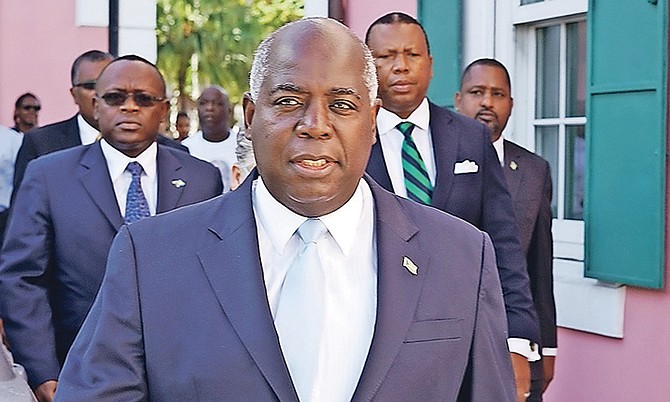 By RASHAD ROLLE
Tribune Staff Reporter
rrolle@tribunemedia.net
PROGRESSIVE Liberal Party Leader Philip "Brave" Davis has said revelations Works Minister Desmond Bannister made yesterday about former Bahamas Power & Light Chairwoman Darnell Osborne are "disingenuous," questioning why Mr Bannister reappointed her to the board in July if he felt her conduct had been egregious.
Mr Bannister told the press before Cabinet he intervened at BPL to block alleged directives to pay the personal bills of Mrs Osborne.
His was responding to Mrs Osborne and two other former BPL board members, Nicola Thompson and Nick Dean, who said in a statement on Sunday that Mrs Osborne was "continually disrespected and undermined" while certain factions in the board were allowed to "run amok".
Mr Davis said: "I think it's unbecoming of the minister to have sunk to the level he did, to get so personal with the chairperson.
"The reasons (Mr Bannister) gave are disingenuous for one reason: if he knew those things and that's now why he removed her, why did they reappoint her in July? All these things he spoke about I would've heard about some time ago but they reappointed her in July. If they were so egregious warranting the action he's now taken, doesn't it smack of (being disingenuous) that he reappointed her in July, now he's removing her for factors that he knew about before that?"
He added: "The interference that she was talking about related to interference on the part of board members and management and he never addressed that. It would appear by all accounts that he and the prime minister were siding with one component of the board and management to whom allegations of...undermining of the chairman and (other things) were made against.
"The statements of Mrs Osborne and the other two board members relate to the board having made a decision with respect to Shell North America and that these other board members along with management sought to undermine that decision and when it was uncovered she tried to right the ship and I understand she spoke to the prime minister, she spoke to the minister and she said it was improper yet they dismissed her in all of this."
Since last week, the PLP has been calling on the government to address the BPL board debacle.
Yesterday, Mr Bannister called Mr Davis "clueless".
"Y'all have a whole Ernst and Young report on what happened during Mr Davis' tenure," Mr Bannister said. "He's totally clueless about BPL and all you have to do is go back and look at what happened under their tenure and you will see the manner in which they governed this country and the manner in which BPL was run under his watch."