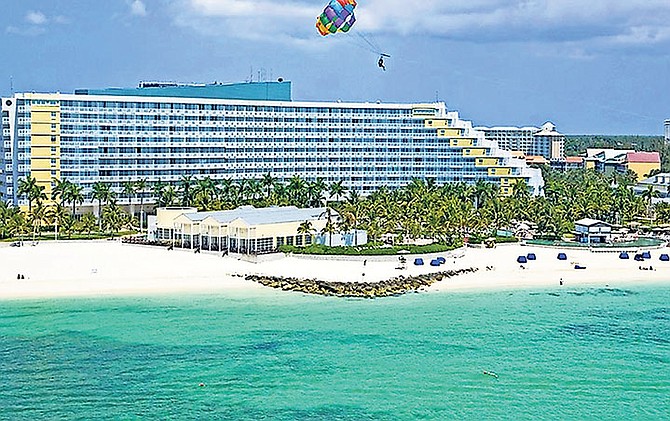 By DENISE MAYCOCK
Tribune Freeport Reporter
dmaycock@tribunemedia.net
THE Commonwealth Union of Hotel Services and Allied Workers believes the decision by Prime Minister Dr Hubert Minnis to purchase the Grand Lucayan Resort in Grand Bahama is good news for the union and its hundreds of members.

President Michelle Dorsett met with union members at the Taxi Union Hall last week to update them on the way forward for the union as the government seeks to purchase the resort property in Lucaya.
In a statement issued on Monday, Ms Dorsett commended the government for its decision to take over the resort to ensure that hotel workers are employed.

Once the hotel sale is complete, she said that workers should receive all of the benefits to which they are entitled.
According to the statement, the union's attorney and accountant updated union members on the union's position in view of the pending sale.
The union has now retained attorney Pleasant Bridgewater, former Progressive Liberal Party MP, for all its legal matters concerning members' benefits.
Ms Dorsett is very optimistic about the government stepping in to purchase the hotel after the pullout by the Wynn Group.

"We suffered from 2004…it is not just about the workers, but about Grand Bahama," she said, referring to the closure of the Royal Oasis resort which left the island's economy in a slump. "It is not just about the hotel or the workers. It is about the people, the entire island - the taxi drivers, the straw vendors, those that work in the food stores, the restaurants, the garbage collectors - all over. We have to think about them as well."
At last week's meeting, she urged the 100 members that turned out to remain positive and assured them that the union is working diligently to get what is owed to them.
"Their benefits will be given to them and that they will have options when the times comes. We will let them know when that would be, but at the same time those that want to depart and those that wish to stay, can put their names down," she said.
Ms Dorsett thanked the public for its support.
"We are pleased that the public is supporting us, that is the key thing…because they know if the hotel fails, they fail also," she said.
Meanwhile, Ms Bridgewater provided members the opportunity to view the financial report of the list of severance pay and back pay owed and increases over the years with names, amounts, and dates.
"Nothing is hidden - everything is open and transparent; no one is trying to outsmart anyone or keep anyone out of anything. Severance, back pay, and increases are all included in the itemized list. The only thing not included is the gratuities, and those have been submitted already to the hotel, for their consideration," she said.
She said that if there are discrepancies, the union will address the matter. The Commonwealth Union of Hotel Services and Allied Workers, which represents line staff workers, has 400 members.