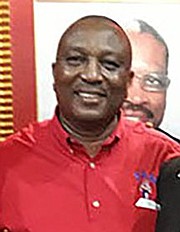 By AVA TURNQUEST
Tribune Chief Reporter
aturnquest@tribunemedia.net
A ROW has erupted over the cancellation of the Free National Movement's monthly council meeting, according to a letter obtained by The Tribune.
The open letter was reportedly sent to FNM chairman Carl Culmer by national deputy chairman Brad McPhee, who makes an appeal for the meeting to be reinstated.
Mr McPhee further expressed a desire for all national officers to stand up and express their views.
"I write openly not to offend you but because I sincerely believe in and respect the constitution of the Free National Movement," the letter read.
"Council is the highest authority in our party outside of convention. All councilors are equal, we may hold different offices and roles, but no man is superior to another. What then gives you or the secretary general or the treasurer or any other officer the authority to cancel or postpone a constitutionally mandated meeting?"
It continued: "We are the governing party and governance in this current climate means serious business, no breaks or pauses.
"People need to voice their concerns and those of their association members and constituents, the constitutionally mandated meeting protects this right. Do you believe that cancelling is reasonable or responsible?"
Mr McPhee formerly served as president of the Torchbearers and national vice chairman.
Both Mr McPhee and FNM chairman Carl Culmer declined comment yesterday.
However, sources close to the matter confirmed Mr McPhee did pen the letter.
The letter continued: "Our constitution protects us from even ourselves, it keeps us from making decisions contrary to the principles of our organisation. When we stray away from our constitution we kill the spirit and intention of our forefathers.
"Mr chairman this is not to offend you, this is not to hurt you but this message is to help you help yourself. Please do not make this grave mistake. Do not turn your back on the constitution.
"I am requesting all national officers to voice their opinions on this, to do it respectfully and honestly. We must not be cowards when it comes to upholding the constitution of our party.

"The constitution is the only vessel guaranteed to protect us, if we let it die under attack or disregard then we all die politically. Stand up and be counted willing to live or sit down and die a coward."