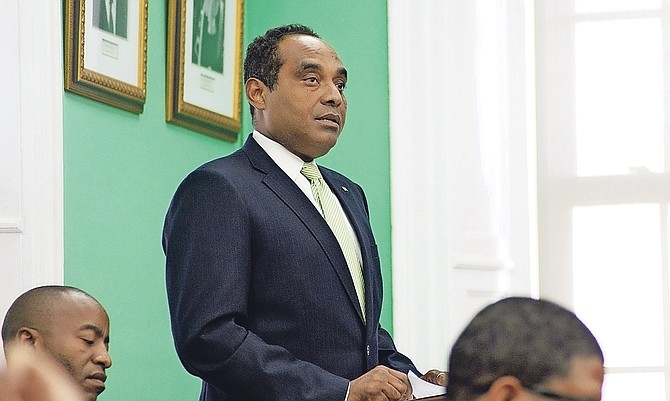 By RASHAD ROLLE
Tribune Staff Reporter
rrolle@tribunemedia.net
CABINET is close to reaching a conclusion that could increase the country's aragonite mining revenue, Environment Minister Romauld Ferreira said.
However, he cautioned that aragonite was not a "panacea" that would make every Bahamian citizen rich, as some believe. 
He said his ministry received an economic report on the matter earlier this year which the Minnis administration has been analysing in conjunction with key geological reports conducted in the past.
Through a lease with Sandy Cay Development Company to mine aragonite off Ocean Cay near Bimini, the Bahamas government reaps a royalty of $2 per metric ton.
Some have long believed the country could make much more.
"When I say substantially increase, we can go from, I think, it's $40,000 up to $2.5 million per annum," Mr Ferriera said.
He said this could only happen if the country embraces the right extraction policy for the mineral, one "rooted in science".
"Again it's not a panacea, a silver bullet that will make every Bahamian a millionaire, but the amount of money that we as a country, as a nation make from it can be increased," he said on Wednesday.
Aragonite is used to produce cement, glass containers, auto glass, soil, acid, neutralising animal and poultry seed, among other things.
"I want to say the study process was bifurcated into two streams because you have to look at how is aragonite made or produced or precipitated out of the ocean and then you have to look at the financial component of it," Mr Ferreira said.
"The first thing is we had a geology report that was prepared, more than one actually, initiated by the Ministry of Environment and also the Ministry of Agriculture and Marine Resources because when you really consider it, aragonite really precipitates out of the ocean so it really is a marine resource. What we learnt about the creation of aragonite is that in a human lifetime it is not renewable. I mean when they did geological sampling, they used carbon-14 to date something. They determined the aragonite in the Bahamas, there are different patches of it throughout the country and it has different rates of formation, anywhere between 150 years and 200 years for one grain to precipitate out of the ocean.
"So what we want to do is to make sure that our policy on aragonite is grounded in science so that the extraction rates are sustainable. One thing is for sure, the studies say there are millions of tons of aragonite scattered throughout the country. Fourteen principle locations around the country were sampled. Those locations secrete aragonite at different rates. That being said, there are millions and millions of tons of it, just that the rate that it precipitates is not as fast as you might think. So we have to be very careful how we manage the resource."
Mr Ferreira said legislation is being developed to establish a new regime for the substance.
"First you have to have a Cabinet conclusion," he said, "then you engage the public, then you make a decision. We are close to a Cabinet conclusion. We have draft legislation."