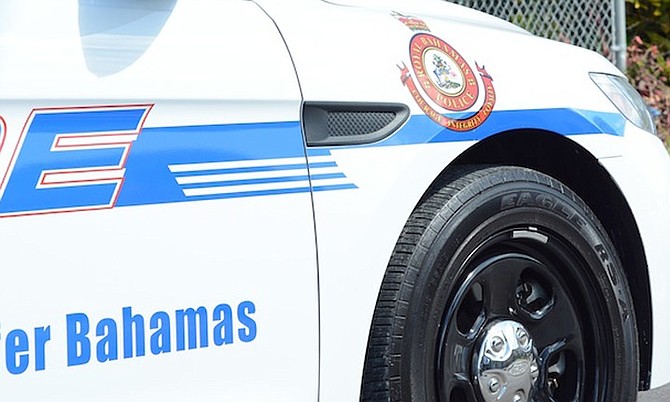 By MORGAN ADDERLEY
Tribune Staff Reporter
madderley@tribunemedia.net
ASSISTANT Commissioner of Police Clayton Fernander issued a strong warning to "bold" criminals at the scene of the latest police shooting.
ACP Fernander said police face a criminal element that is brazen enough to wear no masks and engage in a shootout with officers.
On Friday, police shot and killed a man who they said opened fire on them.
According to ACP Fernander, police were arresting another individual on charges related to possession of a handgun when they heard shots fired nearby.
Officers responded to the scene and found a man on a motorbike who was "armed with a hand gun, firing shots in the air," ACP Fernander said.
He added that officers ordered the man to stop, but the individual responded by firing at them and fleeing the scene.
This resulted in a "high-speed chase", which culminated on Lucky Heart Corner, off East Street. There, ACP Fernander said the man engaged police in gunfire until he was fatally shot by officers.
This incident occurred hours after a shooting between two men inside Everybody Wins on East Street and Balfour Avenue, leaving one person dead.
The Lucky Heart Corner shooting angered many community members. Approximately 40 gathered near the crime scene, expressing disgust at another police-involved shooting.
One resident, who wished to remain anonymous, identified the deceased as Anthony Fowler. He added Fowler was in his mid- to late- 50s.
"This matter initiated sometime around 2pm this afternoon at Whites Alley…just off Wulff Road in the area of Columbus Primary," ACP Fernander told reporters at the scene.
"Officers (were) at a residence after executing a warrant of bringing into custody an individual who was found in possession of (an) illegal firearm."
ACP Fernander said while this arrest was being conducted, a number of shots were fired near the "back street" of that residence, which is Moore Avenue. A police unit responded, he said, and upon arrival "they saw a young man on a motorbike who was armed with a handgun, firing shots in the air".
"When the individual saw the officers exit the vehicle after he was ordered to stop, the individual fired at the officers and pulled off," ACP Fernander continued.
"Officers got back into their vehicle, there was a high-speed chase, which ended up right here at…Lucky Heart Corner, this is just off East Street to the dead end; where the individual got off the motorbike, still armed and was firing at the officers, ran into this vacant lot.
"Officers pursued him, he engaged the officers again, firing. As a result, officers returned fire and he was fatally shot right here…During the chase, the individual was firing at the officers, we were able to recover a weapon from the suspect."
According to police press liaison Superintendent Shanta Knowles, the suspect's firearm was a nine-millimetre pistol.
ACP Fernander added that police recovered "fire casings, which the individuals had fired at the officers from the initial scene". He said the deceased was also found in possession of a small quantity of marijuana.
The matter will be handed over to the coroner for further investigation.
ACP Fernander declined to identify the deceased, but estimated him to be in his late 40s. He also would not reveal where the individual was fatally shot, but confirmed he was shot in his body.
The assistant commissioner also regreted the general state of crime in this country and issued both a warning and a plea to those involved in criminal activities to cease such behaviour.

"Criminals, the young men especially, who are involved in the life of crime, as you could see, they are very, very bold. And they will go to the very end in trying to kill or injure somebody to get away.
Referring to the murder inside the gaming shop, ACP Fernander said: "This morning (Friday)…a young man was killed at a business establishment, in the establishment.
"An individual came in, armed with a handgun, in the presence of a number of other persons, and shot the individual dead. Wearing no mask. Very, very bold.
"So, I want to send a stern warning out there to those who want to live that life of crime, to stop it. At the end of the day if you continue, this will be the end result. We don't want it to end like that. So, if you're involved in the life of crime, we encourage you to stop. Put down your guns, turn it in."
ACP Fernander also assured the public that officers are "up and about in every area of New Providence".
He also called for more partnership and assistance from the community with helping to identify criminals, adding: "We can't let a handful of thugs destroy our beautiful country, and we will not standby and let that happen."
On July 25, National Security Minister Marvin Dames said training would be stepped up to minimize police shootings.
Mr Dames confirmed police were working to establish intermediate use of force standards that would regulate police response when facing perceived threats.
Use of force standards dictate how much force can be used against a resisting subject and have been a central concern raised by critics of the police shooting rate and fatal encounters with suspects.
On July 20, police shot and killed an alleged armed robber who they said opened fire on two officers after pinning them against a vehicle.
The man, who police identified as Dario "Geico" Tinker, had been sought for questioning for several weeks. Police said he was found driving a stolen car, taken during an armed robbery last week Wednesday, and a pistol was recovered from the scene.
His death marked the ninth police shooting death for the year.