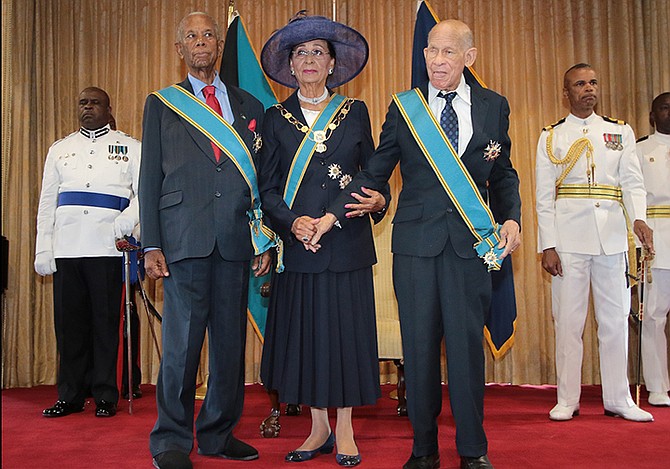 By AVA TURNQUEST
Tribune Chief Reporter
aturnquest@tribunemedia.net
FORMER Governors General Sir Orville Turnquest and Arthur D Hanna were yesterday heralded as the country's "finest sons" as they were bestowed the Order of the Nation national honour.
Both men were recognised for their historic contributions to the country's development through decades of public service during an investiture ceremony at Government House.
At yesterday's ceremony, Prime Minister Dr Hubert Minnis reiterated the honour was an important and overdue milestone in the history of a sovereign and independent Bahamas.
"A nation's wealth cannot be solely measured in terms of economics and natural resources," Dr Minnis said.
"A nation's wealth and well-being must equally be measured by the quality of service and generosity of its people in the promotion of the common good, and in the fostering and development of the talents of a people.
"In honouring those who served with distinction, we offer current and future generations fine examples of national and community service. Our national honours express the grateful thanks of a people and a nation to those who deserve special recognition."
Sir Orville and Mr Hanna were pinned by Governor General Dame Marguerite Pindling, who became chancellor of the Societies of Honour at an earlier ceremony that day.
"I'm glad for AD Hanna," former Prime Minister Hubert Ingraham said yesterday, "because he's one of the Bahamians who refused to accept the awards from her majesty.
"Very, very happy that he has gotten it today. He had been offered it (the British honour) several times and the last time was when he was demitting office and he refused. He always wanted it to be a Bahamian honour."
Sir Orville was the country's sixth governor general, and served as the deputy prime minister, attorney general and minister of foreign affairs.
Mr Hanna was the eighth governor general, and held a number of Cabinet posts, most notably as minister of education, minister of trade and industry, minister of home affairs with responsibility for immigration, and minister of finance with added responsibility for the public service.
He was part of the delegation that represented the Progressive Liberal Party at a constitutional conference in the United Kingdom, and played a leading role in the path to the country's independence in 1973.
Yesterday, former Prime Minister Perry Christie noted Sir Orville presented him at the Bahamas Bar as an aspiring lawyer, and he had always considered him, and the late Paul Adderley, as his mentors.
Mr Christie said Mr Hanna had always been one of the extraordinary men in his life, and in the life of Mr Ingraham.
He recounted when he and Mr Ingraham were denied the nomination for their respective constituencies by the Progressive Liberal Party during the Pindling-era, Mr Hanna supported them as a sitting deputy prime minister.
"He took a position in support of Mr Ingraham and myself," Mr Christie said, "and in doing that it was an extraordinary sacrifice and an extraordinary statement because he saw two young men who he thought could be something in the political life in the country, whose positions should not have resulted in any degree of diminishment…and he took a stand on our behalf which resulted in him having to leave the office of deputy prime minister and as deputy leader of the party.
"We owe him a great deal of gratitude because the ultimate result of all that he did was seen in the fact that Hubert Ingraham became prime minister and I was able to succeed him. From an historical point of view, he made an extraordinary decision to support both of us.
"History has now given the wonderful perfect vindication of him," Mr Christie added, "so this was very special for me to be here to see him…for him to be one of the first recipients of the highest order…it's been a good day for me."