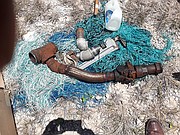 By MORGAN ADDERLEY
Tribune Staff Reporter
madderley@tribunemedia.net
THE diesel fuel leak in Exuma has been completely cleaned up, acting Port Controller Dr Raymond King told The Tribune yesterday.
Dr King said the leak was caused by a ruptured fuel line that became damaged through "normal wear and tear". He added the damaged section is expected to be replaced this week.
On Monday, port officials in George Town, Exuma reported a diesel leak occurred at the Emerald Bay Marina, located in Farmers Hill.
A diesel fuel storage tank line managed by Sun Oil sprung a leak on Sunday, resulting in approximately 3,600 to 3,800 gallons of diesel fuel escaping into the waters of the marina.
Containment booms were placed to prevent any further impact on the neighbouring environment or marine life.
"The clean-up process is complete," Dr King told The Tribune. "I received reports from the port officer in Exuma yesterday (Wednesday) that it was totally cleaned up.
"This morning (Thursday) I received a call from the officials from Sun Oil here at Clifton Pier, who formally advised me as well that the clean-up is complete and they would be sending out a report to the Ministry of Transport and Local Government within a week or so, a formal report on it. So, the diesel spill has been cleaned up completely."
When asked if the cause of the leak is known, Dr King pointed to "normal wear and tear" of the fuel line.
"Well, the cause, as reported from the Port Department, because you know we have officials there in Exuma, it was a ruptured, or the fuel line, it was a fuel line in itself which became breached.
"So it appears to be through normal wear and tear. It was a part of the fuel line where the leak stemmed from. It was reported and I passed it on to the ministry, that the replacement part was ordered by Sun Oil.
"And I wish not to speak for Sun Oil itself, but from what they provided to the port offices was that the part would have been expected in this weekend to change out."
Dr King added he had received a photo of what the part looked like, which he forwarded to the ministry and The Tribune.
On Tuesday, Bahamas National Trust Executive Director Eric Carey told this newspaper he estimated the environmental impact from the fuel leak would be small.
Mr Carey said while the accident had the potential to be a "real tragedy," because diesel is a "light" fuel, it is likely to evaporate before it has any affect on the Exuma Cays Land and Sea Park (ECLSP), a protected marine area.
However, he added those working with fuel near sensitive environments should exercise extreme caution.
"Relatively speaking, that impact is going to be small," Mr Carey said. "If the volume was larger, then it's a bigger issue.
"Folks that are operating fuel near to sensitive environments, whether they are marine (environments) or blue holes or other wetlands, should certainly exercise a lot of care (and) extreme caution."