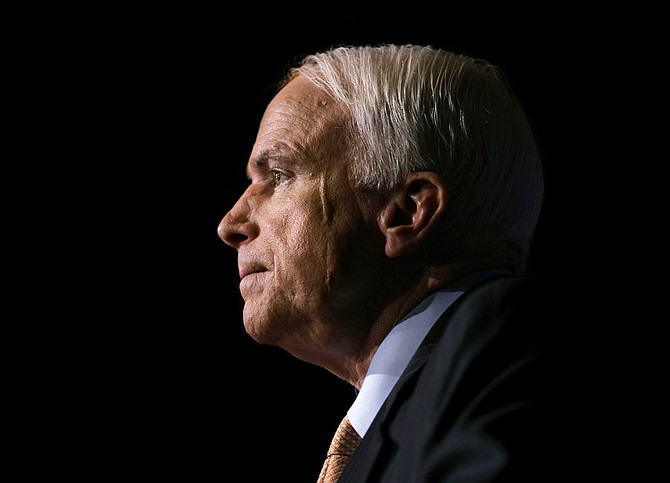 WASHINGTON (AP) — Sen. John McCain, who faced down his captors in a Vietnam prisoner of war camp with jut-jawed defiance and later turned his rebellious streak into a 35-year political career that took him to Congress and the Republican presidential nomination, died Saturday after battling brain cancer for more than a year. He was 81.
McCain, with his irascible grin and fighter-pilot moxie, was a fearless and outspoken voice on policy and politics to the end, unswerving in his defence of democratic values and unflinching in his criticism of his fellow Republican, President Donald Trump. He was elected to the Senate from Arizona six times but twice thwarted in seeking the presidency.
An upstart presidential bid in 2000 didn't last long. Eight years later, he fought back from the brink of defeat to win the GOP nomination, only to be overpowered by Democrat Barack Obama. McCain chose a little-known Alaska governor as his running mate in that race, and turned Sarah Palin into a national political figure.
After losing to Obama in an electoral landslide, McCain returned to the Senate determined not to be defined by a failed presidential campaign in which his reputation as a maverick had faded. In the politics of the moment and in national political debate over the decades, McCain energetically advanced his ideas and punched back hard at critics — Trump not least among them.
The scion of a decorated military family, McCain embraced his role as chairman of the Armed Services Committee, pushing for aggressive U.S. military intervention overseas and eager to contribute to "defeating the forces of radical Islam that want to destroy America."
Asked how he wanted to be remembered, McCain said simply: "That I made a major contribution to the defence of the nation."