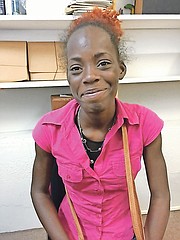 By AVA TURNQUEST
Tribune Chief Reporter
aturnquest@tribunemedia.net
AFTER waiting nearly five years for a response on her citizenship application, a Bahamas-born woman is petitioning the courts for a judicial review and constitutional relief amid allegations of abuse and harassment by immigration officers.
Dahene Nonord, 23, says the lengthy delay has rendered her a "broken hearted vessel of shattered dreams", putting her life on hold indefinitely while she lives with no documentation to protect her from arrest and deportation.
Since graduating from Anatol Rodgers High School, she has deferred numerous opportunities for further education and travel, including her dream of enlisting in the Royal Bahamas Defence Force.
She is seeking a judgement on the government's failure or refusal to make a determination on her citizenship application submitted in September 2013; a declaration that the lengthy delay breached her constitutional rights; and an order requiring the government to either register her as a citizen or exercise its discretion in a timely manner.
Her application also asks for an interim injunction restraining officials from deporting her before such a determination can be heard.
The ex parte application was filed on July 27 against Prime Minister Dr Hubert Minnis, in his capacity presiding over proceedings of the Immigration Board; Minister of Immigration Brent Symonette; the Board of Immigration; Director of Immigration Clarence Russell; and Attorney General Carl Bethel.
The application read: "Mrs Nonord's certificate of identity has expired. Without any documentation establishing Ms Nonord's connection to The Bahamas and permitting her to remain freely within the Bahamas; and without Ms Nonord being registered as a citizen of The Bahamas she is unable to attend school, work, travel, register under the National Insurance Act and obtain assistance and benefits and participate or open a bank account.
"Her life is effectively on hold.
"All the while she lives in fear of arrest and deportation…she has been subjected to arbitrary and illegal search and detention and beatings as a result of being unable to produce documentation to establish her legal right to remain in the Bahamas."
Ms Nonord's parents are Haitian citizens and legally reside in The Bahamas, according to her affidavit, which makes clear she has never travelled outside the country.
She was granted a certificate of identity on April 4, 2011, but it expired on April 3, 2016.
Ms Nonord applied for citizenship at 18 in 2013 and also submitted to a request for additional documents.
Her interview was conducted in 2014, according to her affidavit, which stated she was told she had scored a "C" and would be given a date to take the oath of allegiance.
She said it was the last time she had any successful communication with the Department of Immigration concerning her application despite numerous visits by herself and attorney to inquire about its status.
During a visit in October 2017, she alleges she was told they could not locate her file. A letter was sent by her attorneys requesting urgent action but there has been no response to date.
She says harassment and abuse by immigration officers started in December 2013, and believes this treatment and subsequent delays in processing her application is motivated by animosity, prejudice or discrimination towards her.
In her supporting affidavit, she outlines five incidents with police and immigration officers, where she accuses officers of harassment, battery and abuse.
The first incident allegedly occurred in the early morning on December 3, 2014, when she was apprehended by Immigration officers on Cow Pen Road after she could not produce any documentation.
After she refused to stop, four immigration officers grabbed her and placed her in handcuffs as she struggled.
Once inside the bus, she said one of the officers grabbed her neck and began choking her.
She was then taken to the Carmichael Road Detention Centre where she was allegedly heckled by officers who made fun of her name and made hurtful and sarcastic remarks.
She was allegedly further beaten by two female immigration officers, who told others she had to be handcuffed and restrained because she had tried to attack them.
"At this point," the affidavit read, "I was surrounded by two female officers and three to four male officers. A male officer handcuffed my feet using tie straps and threw me on to the floor. An unidentified police officer in uniform, then lifted me up by my pants and dragged me across the floor. One of the two female immigration officers who had beaten me exclaimed: 'This bitch, I will kill this bitch, I will kill her, I will kill this bitch, I will kill her'."
Ms Nonord said she was taken to the front section of the centre and after sometime was allowed to contact her parents and was released some 45 minutes later.
She was told by her parents they had presented her certificate of identity and birth certificate.
Before leaving, Ms Nonord said she reported the alleged abuse to the officer in charge of the CRDC, and upon overhearing, the officers alleged she had bitten them on their fingers.
She denied having ever bitten them or anybody else.
She further alleges the officers then asked for the proper spelling of her name so they could file a report against her.
A medical report attached to her affidavit, stated she was seen by a doctor at Princess Margaret Hospital on December 3, and diagnosed with soft tissue injury to her chest wall and right thigh.
On December 29, 2014, Ms Nonord was apprehended while walking on Golden Isles corner during a "round up" in the Carmichael area. She had noticed Immigration officers questioning people and had began recording them to share with human rights group Rights Bahamas.
She said she ran when she was spotted by officers, but was caught by a female officer she recognised from the previous incident.
The officer began choking her, and she says, bit her hand in self-defence because she could not breathe.
She was then handcuffed by two other officers and further beaten by the female officer, who put her inside a car and continued to punch her in the head.
Ms Nonord said she was then taken to the Carmichael Road Police Station, where she told police she had been beaten and did not feel well.
An ambulance was called and she was taken to hospital. An attached report indicates she was seen and diagnosed with soft tissue injury to the back, neck and upper limbs. Clinical examination also documented abrasions, a contusion and neck tenderness.
The following morning, she was taken to Magistrate's Court and charged with obstruction and assault.
She plead guilty and was granted bail.
However, while waiting in a holding cell for bail, she alleges she was picked up and body slammed by a police officer, who then punched her in her back and legs.
Ms Nonord was convicted and ordered to pay a $400 fine and has appealed the matter.
The fourth incident took place on May 19, 2015, when police came into their community with guns drawn.
"My mother and I were watching what was going on at our fence," the affidavit read.
"We were not interfering in any way. Shortly after the arrival of the police officers, a female officer shouted, "That's the bitch that bit the immigration officer standing by the fence."
Ms Nonord said an officer immediately rushed up to her, grabbed her neck and started to choke her.
She further alleged the officer threw her against the fence, and was joined by a few other officers in punching her in her back, legs, and face despite her cries for mercy.
Ms Nonord said her brother returned during the ordeal after he heard the crying and screaming and was also grabbed by officers.
She and her brother were put on the police bus and handcuffed to the seat bars.
She claims an officer began shouting that he would burn down their house, adding her brother Geno was also slapped repeatedly by an officer while on the bus.
Ms Nonord alleges she was taken from the bus and into a room at the Carmichael Road Police Station where she was choked and slapped repeatedly by an officer - the fifth incident of abuse.
She was then placed in a dirty cell and refused use of the bathroom. According to her affidavit, police also refused a request by her lawyer Adrian Gibson for medical assistance.
She was brought before a Magistrate the following morning and charged with "threats of death, assaulting a police officer, disorderly behavior, obscene language, obstruction and resisting arrest".
"I was in shock and in total disbelief, as it was Geno and me who had been nearly killed by the police," her affidavit continued.
"I was detained from the morning of the May 19, 2015, until May 20, 2015, and was never offered anything to eat. I was forced to sleep on a cold concrete floor and denied access to the bathroom facilities despite constant begging," it read.
"I was subjected to appalling inhumane and degrading treatment at the hands of police officers."
Ms Nonord and her brother Geno were discharged by Magistrate Ambrose Armbrister on March 23, and the government gave notice of its intention to appeal on March 29.
"The hardships that I have encountered as a child born in The Bahamas are inexpressible," read her affidavit.
"I have met the worst forms of abuse, discrimination and victimisation as a human being, in my own country of birth."
She said her last trip to the Immigration Department was in October 2017, when she was told by a staff member her file was removed after her "problem" with the Immigration officer.
Ms Nonord claims when her legal counsel inquired about her file, she was identified as the "young lady who bit the immigration officer and police" and told her file could not be found.
Since her application in 2013, Ms Nonord's parents and younger siblings received permanent residency in April 2017, and her brother Geno was granted citizenship some two months later.
"I am afraid that I will be unlawfully expelled from The Bahamas before my application is found and processed," her affidavit read.
"I am also afraid of being picked up and taken to [Carmichael Road Detention Centre] without anybody knowing and being held and beaten again."
Ms Nonord also alleges she approached Immigration Minister Brent Symonette outside parliament in February to appeal for an intervention in her case.
She states he told her she didn't need to reapply and that he would find her file. But has since not responded to her calls.
"I still do not have any "Papers"," her affidavit read.
"I am terrified of being picked up again as the 'Yellow Immigration Buses' are still constantly conducting raids, round ups and stopping people in the buses and on the streets. They are even breaking down the doors of homes in the Cow Pen area where I reside which is near the [Carmichael Road Detention Centre]."
It continued: "Nearly five years after submitting my application and four years after being interviewed I still have no right to move about The Bahamas freely, live freely and work."
Ms Nonord and her family are also part of legal action brought against the government over its decision to eliminate shanty towns throughout the country.