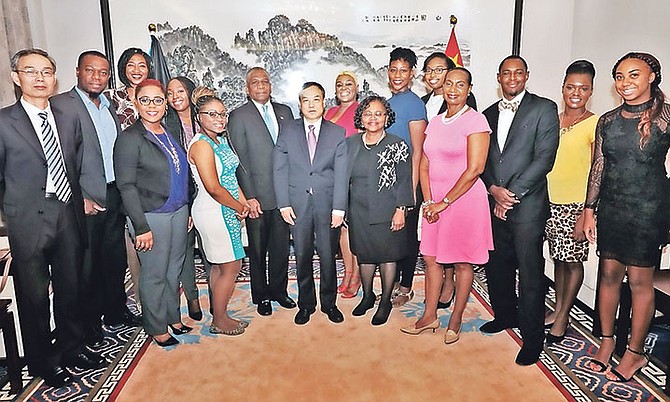 By Eric Rose
ELEVEN Bahamian students have received scholarships from the government of the People's Republic of China for study in that country to pursue various programmes of study.
"These students all are a shining example of high aspirations," permanent secretary at the Ministry of Foreign Affairs Jack Thompson said, during a recent reception held in their honour at the Chinese Embassy on East Shirley Street. "I commend them, and their parents, guardians and others who have helped them in their quest for higher education."
Among those present for the ceremony included Chinese Ambassador Huang Qinguo and other embassy officials; Ministry of Foreign Affairs director general Sharon Brennen-Haylock; first assistant secretary and head of the Honorary Consul Unit and Technical Assistance Division Meryl Deveaux, other ministry staff and others.
Scholarship recipients from The Bahamas are Asher Jewell Percentie, Valencia Runell Laroda, Antoniqua Cephanette Pinder, Garnece Anrielle Ferguson, Ricardo Antonio Jacques, Ronnel Armbrister, Dawnique Maycock, Rubyn Newton, Cherika Johnson, Danielle Smith, and Kemie Jones.
After bringing greetings and best wishes on behalf of Minister of Foreign Affairs Darren Henfield, who was off island at that time, Mr Thompson noted that The Bahamas and China have enjoyed diplomatic relations since May 1997. Since then, he added, the government of China has graciously awarded scholarships to a multitude of Bahamian students.
"The awarding of these scholarships, yet again, demonstrates that the bond between the Commonwealth of The Bahamas and the People's Republic of China continues to be strengthened and fortified," Mr Thompson said.
He pointed out that, like previous award recipients, the recipients of this cycle will undertake studies in a range of disciplines from accounting to communication, economics, international business management, finance, and marketing.
"In the process, they will also obtain a keen appreciation understanding of the culture, language and people of China," Mr Thompson said.
To the awardees, Mr Thompson said that he was "truly delighted" that they had been afforded "this grand opportunity."
He also said: "Upon completion of your studies, you will not doubt play pivotal roles in the continuous development of beloved Bahamaland."