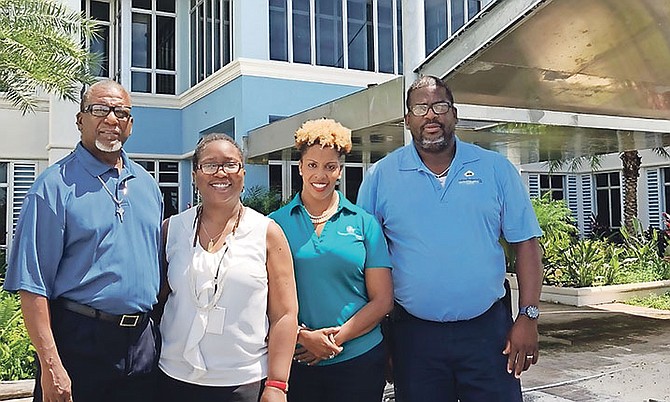 OFFICIALS from the National Insurance Board recently conducted a site inspection of the proposed Ministry of National Security Building on John F Kennedy Drive with the new contractor, Inline Project Co Ltd.
They said strong emphasis will be placed on quality workmanship and the timely completion of the project, according to a press release from NIB.
"This construction project has experienced delays, however, there is mutual agreement and commitment between NIB and Inline Project Co Ltd to complete the building on time and within budget. The projected completion date for the state of the art building is November 30 and shortly thereafter a NIB/Ministry of National Security handover ceremony will take place."
In July, The Tribune reported that Holiday Industrial Builders was suing the government for terminating its $20m contract to construct the complex on JFK Drive. This was according to Public Services and National Insurance Minister Brensil Rolle.
It was also previously reported the Minnis administration has awarded a no-bid contract of undisclosed value to Inline Project Co Ltd to complete the building.
The first Christie administration hired HBI to construct the Paul Adderley Complex on JFK Drive in 2004.
However, the last Ingraham administration terminated that contract and gave it to Jones Construction Company, citing "defective work".
HBI principal Rev Lloyd Smith then sued the government, eventually winning $700,000 after arbiters concluded his contract was wrongfully terminated.
"There was no finding of sub-standard work made by arbitrators," said Kelphene Cunningham, Mr Smith's lawyer, in a legal correspondence written around that time. "Ingraham's cessation of the contract was purely for political expediency."
In opposition, the FNM criticised the second Christie administration for awarding the $20m contract to Mr Lloyd in 2014. This year, the Minnis administration terminated HBI's contract because of its alleged failure to complete the building by deadline.