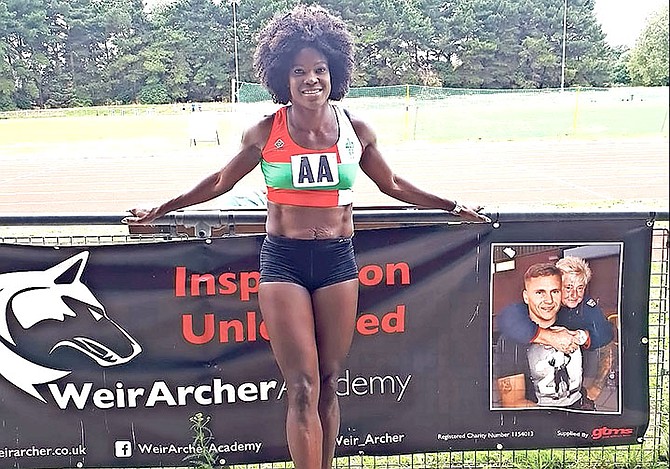 By RENALDO DORSETT
Tribune Sports Reporter
rdorsett@tribunemedia.net
One Bahamian athlete hopes to inspire others to continue their fitness regimen and competitive nature in sports, irrespective of age.
Kim Valente recently won a gold medal in the long jump at the British Masters Athletics Championships hosted at the Alexander Athletics Stadium in Birmingham, England.
A resident of the United Kingdom for the past 18 years, the 42-year-old mother of two credits her work as a volunteer and programmes by the UK government for revitalising her interest in the sport.
"My love for athletics has always been there and in 2013 I volunteered at our local athletic club to work with young talented athletes. My son was a member there at the time. It was not until 2015, I started on a fitness regimen and ran almost everyday. In no time I became extremely fit and was feeling great! I was impressed on how the UK government encouraged older athletes to stay involved in the sports they once enjoyed as young adults and here in the UK there are many sports across all disciplines where masters athletes (those over the age of 35) can still compete at a local, national and international level.
"This encouraged me to go back to athletics, and after a year's training with my club - Aldershot Farnham and District, I started competing."
Valente's second act in track and field has also uncovered a versatility in a wide range of events she had never previously attempted in her youth.
"I train with the senior sprints team under the coaching of Masimba Musa and Joe Coe. By chance, I competed for the first time in long jump in April of this year in the Southern Athletics League (SAL) for AFD. A teammate of mine had pulled out of the event at the last minute and I was asked by our team manager to fill the spot. I was a bit unsure, because I never did long jump before not even as a young athlete and most of the athletes competing at the SAL are half my age. But I did it, not expecting great results.
"To my surprise, I came second that day and earned our team 7 points. I enjoyed it very much and that result gave me the confidence to do it again. I did it several more times at other league track events. However, my greatest achievement was winning gold at the British Masters Championships," she said.
"Although my strength as a younger athlete was always the long sprints i.e 400m, I decided to try the 100m and 200m. Last year, I ranked 7th in the UK in the 100m in my age group 40-44 and 9th in 200m. This year I tried the long jump for the first time and discovered I have talent in this event which has now led me to the title of British Masters Champion 2018. My coach and I will be working on a tough winter programme to get me stronger for the 2019 season. I will be competing in the European and World Championships next year where I hope to bring home the gold."
Born and raised in Nassau, Valente is the daughter the late Edwin Rolle Jr and Alexandra Rolle. A graduate of St.Anne's School, she displayed her athletic potential at an early age. Educational opportunities took her to Rust College in Mississippi followed by internship and scholarship offers that took her academic career to the UK. She selected as a recipient of the Tambrands Scholarship Award of $10,000 and internship programme, given to African American students interested in pursuing a career in business. She followed with the Methodist Scholarship Exchange Programme to University of Ulster, Northern Ireland and Masters Programme at Trinity College, Dublin.
A former marketing executive for the Bahamas Tourist Office in England, Valente said she hopes her story can inspire others to follow a similar path.
"I wanted to share my story in an effort to encourage older women to pursue their passion in the sport, regardless of their age. I am 42 years old, a wife of 14 years and a mother of two children and I know it can be difficult for women to juggle family life, looking after the home and full/part-time work all at once," she said.
"However, athletics has given me a boost and the confidence to know that I can pursue my goals and passion at my age and beyond. I feel that Masters Athletics does not get enough recognition and maybe because we are older, but we must not be forgotten! There are many ways to get involved in the sport, whether you are a complete novice, relatively fit and perhaps have been doing the sport for a long time. You only need to join a registered athletics club and start training and competing in local events at national and international competitions."