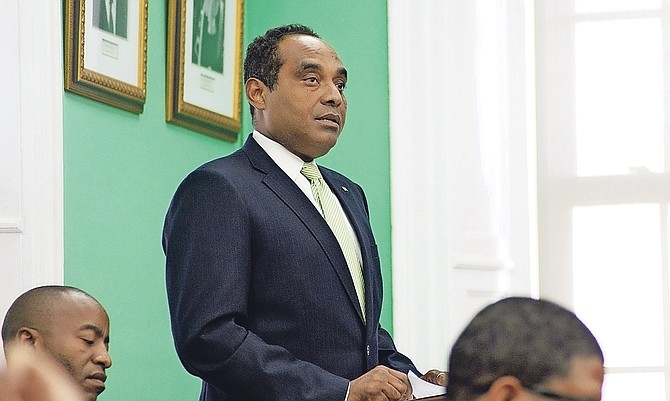 By AVA TURNQUEST
Tribune Chief Reporter
aturnquest@tribunemedia.net
THE Department of Housing has received about 60 applications for its serviced lot initiative but only nine have qualified, Housing and Environment Minister Romauld Ferreira said yesterday.
Mr Ferreira was disappointed that many Bahamians, particularly those who can have salary deductions, have been seduced by predatory lending at commercial banks and could not qualify for a mortgage.
He said government was not considering dropping prices below $15,000, which he said was at cost.
Some six weeks since the initiative was launched, he urged Bahamians to get their "financial house" in order as the lots on offer represented a once-in-a-lifetime opportunity to purchase land in New Providence at low rates.
Mr Ferreira said: "We've really had a lot of interest so far we've received, the Department of Housing has received about 60 applications – regrettably only nine of them qualify. We say to the Bahamian public, this is one of those one-in-a-lifetime opportunities, we urge you to put your financial house in order so you can take advantage of this.
"Never before in the history of our country has land been made available at these kind of prices under $20,000, 15,000, 18,000 – with that much built in equity this can actually make a change and a difference in your life.
"The requirements are actually quite liberal because you're dealing with the Bahamas Mortgage Corporation," he continued. "There is no bank, there is no financial entity more flexible with the Bahamian public than the Bahamas Mortgage Corporation. The fact of the matter is consumer debt and predatory lending by some of the other commercial banks, it's a huge issue and a lot of Bahamians have been seduced into loans that are unnecessary, particularly Bahamians who can have salary deductions."
The Department of Housing launched its serviced lot initiative at Sunset Close off Carmichael Road, called the Sunset Close Subdivision Extension, on July 12.
Those lots are priced at $15,000, but Mr Ferreira said the price for other lots will depend on the cost to install infrastructural services.
He said engineering drawings and works for the Lionel Davis lots on Romer Street in Fox Hill will start soon, with the Carmichael Village project still in its design phase.
Lionel Davis Estates is expected to provide an additional 10 serviced lots, and phase one of the Carmichael Village project will contain 150 serviced lots.
Outside Cabinet yesterday, Mr Ferreira pointed to the challenge of shoddy workmanship as a major factor behind the government's decision to get out of home construction and simply offer serviced lots.
"Shoddy workmanship," he said, "that is like the number one concern even today 10 to 15 years after homes have been constructed the government still has the responsibility of going back and repairing these homes because of the contractual relationship is between the homeowner and the government. The homeowner in many instances has abdicated even simple repairs like fixing a leaking pipe under the sink to the government.
"So the government is saying look we will provide you with this lot, it's worth between $80,000 to $100,000 so you automatically get $80,000 to $60,000 worth of equity, and then you have that contractual relationship between yourself and the contractor of your choice."
He added: "We're taking ourselves out of the equation, the Department of Housing is repairing homes that were constructed many, many years ago and it's an unfair burden to the Bahamian taxpayer."