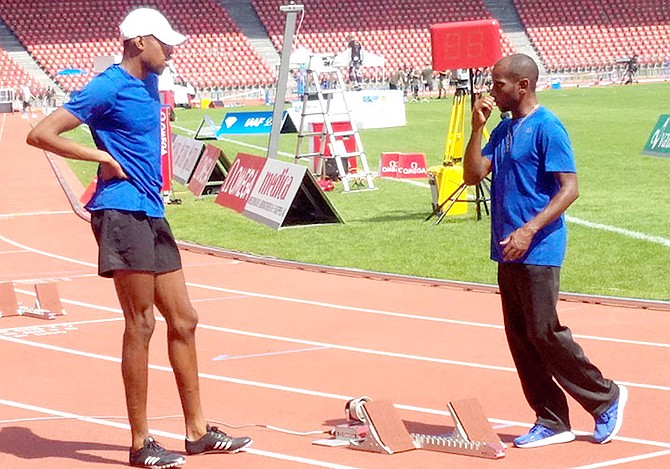 By BRENT STUBBS
Senior Sports Reporter
bstubbs@tribunemedia.net
ZURICH, Switzerland: Steven Gardiner likes the position that he's in going into the International Amateur Athletic Federation's 2018 Weltklasse Zurich.
He will be the lone flag carrier for the Bahamas in the meet at the Letzigrund Stadium at 2:04 pm eastern standard time when he runs out of lane four, the same position he found himself in last year when he failed to get out of the starting blocks and watched as the field race around the track.
He competes a day before Shaunae Miller-Uibo will only line up in the women's 200m and Donald Thomas, who will go in the men's high jump at the other Diamond League Final at the AG Memorial Van Damme in Brussels, Belgium on Friday.
Having worked his way back into shape, following a hamstring tear on the third stop of the Diamond League tour in Stockholm, Sweden, Gardiner said he just wants to regain his rightful place as one of the top quarter-milers in the world. 
"It feels good to be back," he told The Tribune during his final workout session on Wednesday under the direction of coach Gary Evans. "I missed it a lot and I know I've been missed a lot, so I'm thankful to God that I am healthy and safe through my recovery process."
The recovery process that Gardiner referred to began on June 9 when he was running a 200m race. Coming off the curve in third place, he stumbled heading into the home stretch and, as a precaution, he slowly came across the finish line in eighth place in 23.35. He made his return on August 22 at the 9th Kamila Skolomowska Memorial Meeting Chorzow, Poland where he coasted to an impressive time of 44.42 shutting it down as he held off his rivals.
"I feel really good. Last week was my first race since the injury," said Gardiner, who will turn 23 on September 12. "So over the last few months, I have been recovering and training. So it's good to be back and I'm looking forward to competing very well here."
As for the expectations running out of lane four as he did last year, Gardiner said he's just going to take it stride for stride.
"Me and my coach talked about it. We're not chasing a world record or anything," he insisted. "We're just going to go out there for the win and take whatever time wise."
Evans, who has been coaching Gardiner for the past two years in Coral Gables, Florida, said the game plan is very simple.
"We are just looking to win. We're not looking to break a world record. We are just looking for a basic win," Evans said. "We're just looking to run a smart race and not give it up like we did last year from the initial fall from the blocks that he had. So we just want to run a smart race.
"I told him whether it's 45, he still wins. As long as he crosses first, or if it's 43, he still crosses the line first. So we're just going to run a smart race and secure first place."
After falling short of cashing in on the big pay day last year, Gardiner is hoping that he will be handsomely rewarded on Thursday as a hefty prize of $50,000 awaits the winner. Second place earns $20,000, third collects $10,000, fourth receives $6,000, fifth $5,000, sixth $4,000, seventh $3,000 and eighth place will pocket $2,000.
In Brussels where they will be chasing the same cash incentives, Miller-Uibo had a chance to defend her titles in both the 200 and 400m, but she is only listed in the 200m that will be contested as the grand finale at 3:53 pm (EST). Thomas, however, will get the ball rolling in the high jump at 1:45 pm (EST).
Following the Diamond League Finals where the athletes all had to qualify from a total of 12 Diamond League events held around the world this year, Miller-Uibo and Thomas will go on to represent the Bahamas as members of the Americas team at the IAAF Continental Cup Ostrava 2018 from September 8-9 in Ostrava, Czech Republic. 
Miller-Uibo will run with Jamaican Shericka Jackson in the 200m and Thomas and American Bryan McBride will be featured in the men's high jump. Gardiner will shut down his season as Luguelin Santos from the Dominican Republic and Nathan Strotter from the USA compete in the men's 400m. The women's 400m will showcase Stephanie-Ann McPherson from Jamaica and Shakima Wimbley from the USA.
This is the third edition of the Continental Cup that the IAAF is using to replace the IAAF World Cup that ran for ten editions. The event allows each region to produce teams made up of two athletes in each individual event and one team for each relay with a maximum of six athletes.
The four regions competing are Africa, America, Asia-Pacific and Europe.