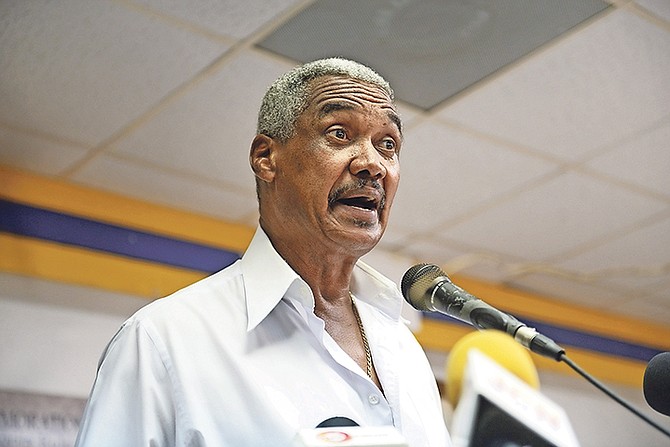 By KHRISNA RUSSELL
Deputy Chief Reporter
krussell@tribunemedia.net
AS he railed against newly appointed Bahamas Power and Light Chairman Donovan Moxey, former Tall Pines MP Leslie Miller questioned whether the rules have changed for the Minnis administration, adding BPL is in a "ridiculous" situation.
"They would have killed me," Mr Miller, BPL's former executive chairman told The Tribune yesterday, as he referred to Mr Moxey's admission on Monday that he saw nothing wrong with the power provider's board potentially awarding his software company - CBI Mobile - a contract as long as he recused himself from discussions and a final decision.
He also said he had a fiduciary responsibility to CBI Mobile's stakeholders when he was asked why he would not just remove his company from potential consideration.
In this case, Robert Myers, principal of the Organisation for Responsible Governance (ORG), said Mr Moxey removing himself from the decision-making process would not do enough to improve the optics surrounding potential conflict of interest. He added the new chairman needed to make a decision on whether he preferred to serve his own interests or that of BPL.
Having such a seat at BPL would give him an unfair advantage over his competitors, Mr Myers insisted.
Yesterday, The Nassau Guardian revealed Mr Moxey lobbied several times in emails just months ago for BPL to contract CBI Mobile to use the bill payment app he created MobileAssist.
During a press conference on Monday, Mr Moxey would not give an undertaking that his company would not vie for future BPL contracts while he sat as chair, and when questioned further he said he could not speak for his entire board or shareholders, and would not do so.
"I find this whole situation with BPL to be so disingenuous and distressing because what I'm not hearing is that they are going to bring down the cost of electricity and lessen the burden on the average Bahamian and the hotel sector and business community," Mr Miller told this newspaper when he was contacted yesterday.
"You have this guy saying I am the chairman of BPL and I still could sell them my app. When I was at BPL I never sold them one gallon of paint from Sunburst (a company he owns) which was the government policy that they patronise locally made products.
"But I know they would have killed me. Could you imagine me getting security services at my home on BEC's (ticket)? Could you image that? Or imagine me going to the barber and charging it to BPL?
"I just find the whole thing so ridiculous. Where is the concern for the Bahamian people? Where is the concern for taking the burden off our backs?"
He was referring to revelations BPL's board approved the installation of a new home security system for ex-chair Darnell Osborne and had also paid for make-up services for Mrs Osborne and others in connection with a BPL-related photo shoot.
Mr Miller continued: "It's like nothing matters and the rules have changed. It's like the Bahamas has become a place run like a company and whatever we want to do we can do the hell with you. (They would have you believe) whatever the previous board did under the PLP was unethical, but with this government everything they do is ethical."
Situations like these have left a bad taste in the mouths of small business owners who would ordinarily seek government contracts, Mr Myers said yesterday.
He said: "You can't act in the best interest of your own company and act in the best interest of the board you chair and have insight into the inner workings of potentially other competitors to your company. That is just bad business because you're going to have conflicts.
"And by the way a competitor of his company may also be vying for the business from BPL. How does that look? Because now you've got the chairman of a board of a competing company that has insight and sway in a matter.
"So even if you recuse yourself it's the optics of it. I just think it's bad practise."
Regarding Mr Moxey's responsibility to his shareholders, Mr Myers said: "But then he needs to make the decision to represent his business or if he's going to move into this world (where he is BPL board chairman) he's got to disconnect.
"I am not saying that he can't do it, because there are cases where people are on boards and their companies are awarded contracts, but special conditions prevail in those instances and they aren't allowed to see any of the information. They are recused from the process, but I am just saying if he wants the cleanest possible solution you should have no conflicts of interest.
"The cleanest thing is there be no ties with no conflicts of interest."
Mr Moxey has maintained that no deal was ever reached with the BPL to use his app, adding there was not one currently in place. His view is that there is nothing wrong with his involvement in both companies as long as he recused himself from any board discussions on the matter.
Deputy BPL chairman Stephen Holowesko shared the same view saying Mr Moxey should not have to put aside his company for a hypothetical contract with the company.
When asked about the prime minister's thoughts on the matter yesterday, Press Secretary Anthony Newbold said Dr Hubert Minnis is more concerned with BPL providing consistent and reliable electricity and that the day-to-day events are left to those who work there and the board of directors.