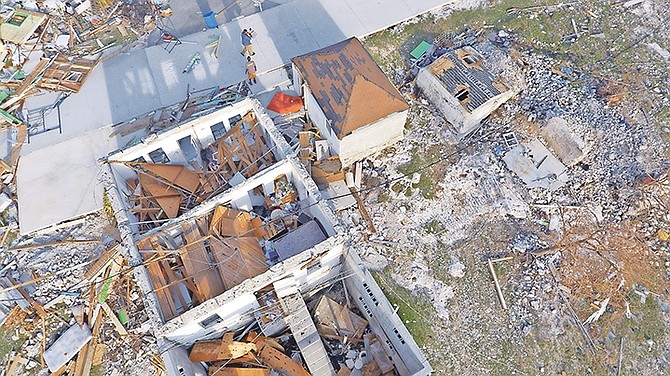 By MORGAN ADDERLEY
Tribune Staff Reporter
madderley@tribunemedia.net 
RESIDENTS of Ragged Island are calling for more government assistance than the $4,000 per household issued by the National Emergency Management Agency on Friday. 
Restoration Ragged Island Association Chairman Ellerly Lockhart told The Tribune while residents "definitely" do not consider the money to be enough, they see it as a start.
Mr Lockhart was also dismayed the "first physical assistance" provided to Ragged Islanders by the government was delivered less than two weeks before the first anniversary of Hurricane Irma. 
He added this treatment has contributed to the distrust locals now feel toward the Minnis administration and could affect how they will respond to any future evacuation notices. 
Following the assessments, NEMA approved 18 households on the island for assistance. They received a maximum of $4,000 per household to further assist with post Hurricane Irma recovery efforts.  
Hurricane Irma passed over Ragged Island as a Category 4 storm on September 8 last year. The hurricane wrought widespread devastation, and the island was subsequently declared uninhabitable by Prime Minister Dr Hubert Minnis. 
Shortly afterwards, Dr Minnis announced the government's intention to "transform" it into the first fully "green" island in the region.
Nearly a year later, locals are still living in a state of desolation.
"There's still no government services down there," Mr Lockhart told The Tribune. 
He clarified while there is electricity, phone services, and finally water facilities, other major services are absent from the island. 
"There's still no nurse, still no kind of health facilities, still no kind of educational facilities, still no kind of local government administrative facilities. Business is still being conducted in Holy Innocence Church. 
"There is no post office, no postal service. So you can't— literally you cannot send no money."
He added people either do not receive their mail or receive it when bills are past due. 
"Things that you take for granted in other parts of the Bahamas, (Ragged Islanders) don't have that." 
Mr Lockhart's house was "totally destroyed" by the hurricane. He described himself as an "in transit" resident, between Nassau and Ragged Island, as he rebuilds. 
He also said the lack of government water facilities for months after the storm hindered his ability to rebuild.
"The water situation was still an issue when I started (rebuilding). It was still very, very iffy. So I couldn't build or use water for building and compete with the resident who needed to use water for daily purposes. 
"I literally had to take water on the mailboat to Ragged Island for construction.
"That situation has since been rectified," he added. "The water situation is now back to what it was pre-Irma. 
"The water situation has just started to get regularised over the past three to four weeks. That's by the Water and Sewerage Corporation. (They) purchased a plant and the plant is functioning."
Three months into the 2018 hurricane season, Mr Lockhart said locals are on "pins and needles" regarding the possibility of another major storm hitting the island.
However, he doubts all residents will evacuate this time, and pointed to the government's refusal to lift the "uninhabitable" declaration as contributing a factor to this decision. 
"I am telling you literally that many, many persons there still will not be able to withstand hurricane weather," Mr Lockhart said.
When asked if more people will evacuate should the government issue an order, Mr Lockhart replied: "No. The people really don't trust the government. They don't trust the government because they think the government has ulterior motives or (is) trying to get them off Ragged Island. 
"(Locals) are hailing… those residents who remained on Ragged Island as heroes because they believe (that) if they were to (leave) Ragged Island, especially since the prime minister…declared that Ragged Island was uninhabitable, if everybody had vacated Ragged Island, you wouldn't have been able to re-enter, you wouldn't (have) been able to get back to Ragged Island.
"You would have been prevented from landing on Ragged Island. You would need permission to land on Ragged Island. That's why those 17 people who remained on Ragged Island were so important to the (local) community. 
"And I don't think that the people will be welcoming to the evacuation order or evacuation this time around, because they really do not trust the government now, especially how they were treated over these past 11 months.
"Irma hit Ragged Island on the 8th of September . . . And the first physical assistance that individuals got from the government for individuals – I'm not talking about water, light, things like that – I'm talking about assistance in terms of help, was couple days ago. The government gave them $4,000."
However, Mr Lockhart added he "congratulates" the government for the initiative and said "any amount of money is welcome". 
When asked if residents consider the money to be enough, he said "definitely not but it is a start".
"And hopefully the prime minister will reconsider the uninhabitable status of Ragged Island," he added. 
"We, especially as chairman of the Restoration Association, we would really like for the government to pick a government building, you don't have to do them all. Just pick one and repair, rebuild. 
"That would be kind of a jumpstart for the economy of Ragged Island… That's not an unfair request, right?"