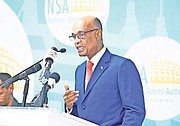 By MORGAN ADDERLEY
Tribune Staff Reporter
madderley@tribunemedia.net
EDUCATION Minister Jeff Lloyd vowed all buildings, with the exception of two, at the Eva Hilton Primary School will be finished by September 3rd.
He also provided estimated dates of completion for the three Family Island schools whose openings have been delayed.
Mr Lloyd said Holmes Rock school in Grand Bahama and Staniel Cay School in the Exumas will be completed by January 2019, but Lowe Sound school in Andros will be delayed until June 2019.
"Every other school in this country is going to open on September 3, 2018," Mr Lloyd promised, adding the students of those Family Island schools "are going to be taken care of".
The Education Minister made these remarks on Friday as he led a media delegation on a tour of the Eva Hilton school, which has 800 students and 29 classrooms.
Although construction was on-going at the premises, Mr Lloyd told reporters: "Every building on this premise is going to be completed in time for school to open."

The only exceptions are the library and the computer room, which the Education Minister estimates will be completed in "two to three weeks".
However, he promised this construction "will not have anything to do with the operation of the school. None whatsoever."
School principal Jermaine Butler said those areas will be cordoned off from students and noted the incompletion of these rooms will not affect students' learning, as both of these facilities are new to the school.
"We didn't have a computer room, so that's a luxury almost," Mr Butler said. "Necessary, but a luxury. So it doesn't bother us at all. And the library, of course. We haven't had a standalone library ever. We can wait until they come online."
When asked if the process is taking too long, Mr Butler said he could not speak to that, as he is not a contractor.
He noted: "I've been on this campus every single day. And I've seen the work, I've encouraged the work for one reason: my children need to be in their classrooms Monday morning, learning."
Mr Butler added for future endeavours, he would suggest the use of private contractors who could assist in school maintenance year-round.
Mr Lloyd was also asked to respond to allegations that some pre-schoolers were unable to attend private schools because government payments have not been made as yet.
The Education Minister said: "(The contracts) are in the process of being signed and monies don't come until after the contract are signed in any event. That will not interfere with our commitment to have this year 1000 preschool students enrolled in a preschool, private or public."
On August 20, Bahamas Union of Teachers President Belinda Wilson criticised government school tours that are done without the presence of union officials, saying this violates the parties' agreement. Mrs Wilson said this creates "conflict".
On August 11, Prime Minister Dr Hubert Minnis and Mr Lloyd toured schools. At the time, it was noted the Eva Hilton school may not be ready for opening day.

When asked if the parties' Bargaining Agreement stipulates that the Union be invited on tours with government officials, Mr Lloyd said: "The legal authority for the management and administration of the school system in the Bahamas resides exclusively, it isn't shared with anybody, in the Ministry of Education, the government of the Bahamas. We don't have to ask nobody and we don't have to consult with nobody to anything."
However, he said the ministry is happy to work with the Union and noted the Union and the general public are welcome to visit school premises.
"Mrs Wilson and the Unions have been engaged in all sphere of our administration and operation of the education system. So I don't accept nothing in terms of us not participating in a collaborative way with anybody," he added.