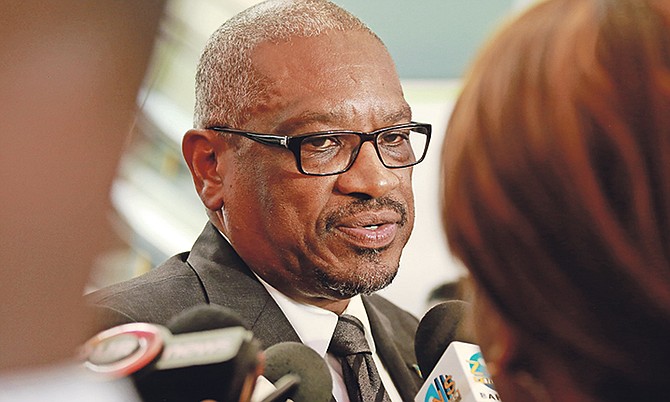 By RASHAD ROLLE
Tribune Staff Reporter
rrolle@tribunemedia.net
THE Public Hospitals Authority is maintaining its emergency operations protocol today as senior doctors press on with their industrial action before a key meeting with Prime Minister Dr Hubert Minnis this morning. Dr Minnis is said to be concerned that tensions surrounding the dispute have been ramped up too high and has asked the CPSA to stop talking about the matter in the press.
A source - who spoke on the condition of anonymity because he did not want to jeopardise the pending talks - said Dr Minnis wants to use the influence of his office to provide a resolution. The doctors will continue their service withdrawal until their issues are resolved, however. For them, the meeting with the prime minister will go a long way to determining how long their protest lasts, and whether it should be ramped up.
Meanwhile, the Medical Association of the Bahamas, which represents over 300 doctors in the country, knocked the PHA yesterday for failing to negotiate with the CPSA last week.
In a press statement, MAB President Dr Marcus Cooper said: "It is unfortunate that the PHA has chosen to gamble with the healthcare of Bahamians by disregarding the value of senior physician input in the management of ambulatory and hospitalised patients. All physicians have taken an oath to help the sick and prevent harm, it is deeply troubling when we are portrayed as insensitive and uncaring."
He also said: "While physicians continue to work in unfavourable conditions with minimal resources and inadequate support, management repeatedly fails to improve efficiency and create a culture of accountability. For years there has been no substantial attempt to improve billing and collections or to enhance public private partnerships to generate additional income, but physicians are labeled as under-performers."
Dr Cooper said the MAB will do what it can to mitigate the inconveniences that have resulted from the CPSA's industrial action until the dispute has been resolved.
The dispute comes as Dr Minnis is expected to meet with leaders of unions across the country today, though it's not clear how many union heads will attend.
Trade Union Congress President Obie Ferguson told the Nassau Guardian last week that he will not attend the meeting because he has a court matter to deal with.
A CPSA source said the association will not be represented at that general meeting either, finding it unlikely that its unique concerns could be dealt with in a such a setting. The group will meet with Dr Minnis separately, this newspaper understands. Paul Maynard, president of the Bahamas Electrical Workers Union, said yesterday that he will attend the general meeting. Bahamas Union of Teachers President Belinda Wilson also said she will attend. Most other union heads could not be reached before press time.
CPSA doctors have no industrial agreement and have not had a salary increase in ten years. They have agitated for a base salary increase from $48,000 to $75,000, for health insurance benefits and for a pension plan.
Last week, CPSA President Dr Locksley Munroe said the PHA identified provisions for a $28,000 increase for doctors that officials wanted to divide between an increase in base salary and bulk payments.
The CPSA found the $28,000 inadequate and the two sides disagreed on how the money should be distributed.
At some point last week, however, the doctors reluctantly agreed to the $28,000, saying they would accept a base salary increase of less than $75,000 along with health insurance benefits and a pension plan.
The PHA has said it will not negotiate with the doctors while they are engaged in industrial action.