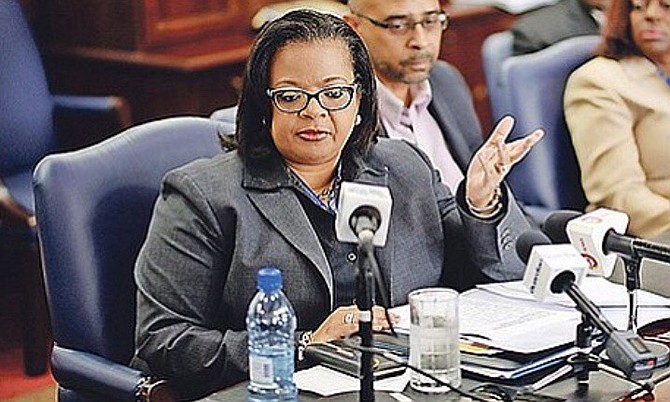 By RASHAD ROLLE
Tribune Staff Reporter
rrolle@tribunemedia.net
FORMER Bahamas Power and Light chairwoman Darnell Osborne has hired attorney Alfred Sears to secure payment from the government for defamation and breach of contract relating to the dissolution of BPL's board in August.
The defamation claim springs from comments Works Minister Desmond Bannister made after the board disintegrated.
Among other things, Mr Bannister claimed Mrs Osborne submitted personal bills for BPL to pay, including make-up bills to the tune of hundreds of dollars. Mrs Osborne has insisted Mr Bannister's claims were false and that the make-up service was for a BPL photo shoot which involved other employees. Mr Sears, a former attorney general, is representing her as well as Nick Dean and Nicola Thompson, the two other board members who were forced to resign in August.
The Tribune understands that Mr Sears sent a "letter before action" to Mr Bannister about five weeks ago, hoping to settle the matter without going to court.
Attorney General Carl Bethel confirmed to The Tribune yesterday his office is in talks with representatives for the trio. Mrs Osborne declined to comment when asked recently. Her willingness to pursue legal action against the Minnis administration highlights how much her relationship with the Free National Movement has frayed. She resigned as a member of the party this summer, having served as a major fundraiser who, a source said, raised thousands for the party ahead of the last general election.
Mrs Osborne resigned as BPL's board became increasingly dysfunctional, disintegrating into two factions, one involving her, Mr Dean and Ms Thompson and the other involving Patrick Rollins, Ferron Bethel and Whitney Heastie. Prime Minister Dr Hubert Minnis promised in August he would launch an investigation into the saga. Three months later, he has failed to fulfil his pledge.
Mrs Osborne, Mr Dean and Ms Thompson are only the latest to seek payment from the Minnis administration because of circumstances surrounding their departure from public office. This list includes former Christie administration consultant Sir Baltron Bethel, former Financial Secretary Simon Wilson and former Water & Sewerage Corporation Chairman Glen Laville. Mr Wilson and Mr Laville have both sued the government, The Tribune understands.
As for Sir Baltron, he told The Tribune yesterday he and the government came to a "mutual agreement" in his matter but he declined to elaborate. Dr Minnis revealed last year that Sir Baltron's contract with the government had been extended and significantly increased before the 2017 general election. He told parliamentarians he cancelled the contract and refused to honour its terms.
The Attorney General declined to reveal the government's arrangement with Sir Baltron, citing confidentiality.
It is unclear how much money the former BPL board members are demanding, however Mr Sears has experience seeking substantial payments for people who have had bad breaks from the government. In 2013, he initiated wrongful termination proceedings on behalf of Algernon Cargill, the former National Insurance Board director who was fired by the Christie administration following an audit by Grant Thornton. Under the Minnis administration, Mr Cargill reached a settlement of $300,000. Mr Sears also represents Mr Wilson.
Mr Bethel said yesterday that the administration is in talks with Mr Sears concerning Mr Wilson's matter.