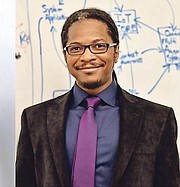 OCAD University in Toronto has named Bahamian Dr Alexis Morris, Assistant Professor of the Faculty of Liberal Arts & Sciences, as one of two Tier 2 Canada Research chairs.
Dr Morris will now be the Canada Research chair in the Internet of Things, the network of devices vehicles, and home appliances that contain electronics, software, actuators, and connectivity which allows these things to connect, interact and exchange data.
He will be tasked with creating a human-centered Internet of Things capacity with adaptive human-machine interface designs, pattern recognition, context-awareness and mixed reality. His research enables humans in the loop to better perceive complex information communications within smart environment applications while simultaneously aligning application behaviours to situation demands. Dr Morris is also the director of Adaptive Context Environments (ACE) lab.