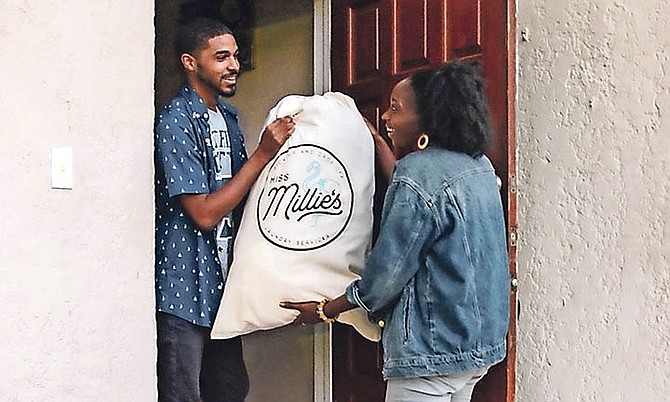 By ALESHA CADET
Tribune Features Reporter
acadet@tribunemedia.net
It's a brand new day, and now you will have time to enjoy it, thanks to the owners of a recently launched pick-up and drop-off laundry service called Miss Millie's.
The woman behind Miss Millie's is entrepreneur and musician A'Leithia Sweeting, who is constantly seeking ways to bring unique ideas she has picked up during her travels abroad to the Bahamian people so that they can benefit from them.
Launched just weeks ago, Miss Millie's is based in East Nassau and offers a one-of-a-kind pick-up and drop-off laundry service which caters to the busy professional, the overwhelmed parent, and the fitness enthusiast – all people who A'Leithia believes can find better uses for their time than doing laundry.
"We're the team that comes to the rescue. We pick up the clothes, wash them, dry them, fold them, package them in our branded laundry bags and return them within 24 hours," she explained.
A'leithia completed her marketing degree at the Oral Roberts University in Tulsa, Oklahoma, which is where she also gained further experience as a recording artist.
Before returning home to Nassau she worked as a brand manager and marketing director at one of the largest non-profit youth organisations in America, Teen Mania Ministries. After that, she was employed as an account executive for the television broadcasting company CBS in Texas.
"I moved back home with business on my mind, but things did not go as planned, and that was mostly because I hadn't planned things out as well as I needed to. I was fortunate enough to find employment with the family at Atlantis and stayed with the company for almost four years. My plan is now, and has been for a very long time, to drop everything and pursue the things that bring me life. Music is the main thing, and business walks right beside it," said A'Leithia.
The idea of a pick-up and drop-off laundry service first came to her during a period where she was working a full-time job, plus serving at her church and travelling often for her music career. And then this October, she returned from a long trip overseas, with loads of clothes to wash. A'Leithia, along with a friend, decided to make an outing out of their laundry duties as a means to catch up, but things didn't go as planned.
"Between the tiredness and the business, it never happened. Finally, my mom reminded me that we own a wash house...crazy, right? So I offered to take my friend's clothes and wash them while I did my own. My friend had seven loads. My mom helped me to wash and fold them, and there in that moment, doing a favour for a friend, I remembered, oh yeah, this was that idea I had over two years ago. Being that I was now free from my full-time job and had the time and the resources to pursue this, I went for it," she said.
Since opening its doors on November 19, Miss Millie's has received rave reviews, said A'Leithia.
According to the young entrepreneur, anyone who has used the service so far has been blown away by the professionalism and the idea of having someone else do your laundry for you while you get back to doing what you enjoy.
"Everything we do is soaked in excellence from start to finish. How we speak to our clients, how we handle their valued clothing, how we pick up and drop off their clothes, how we cater to every specific request they have in regards to taking care of their items. We're not just interested in making money, we're interested in creating delightfully unforgettable experiences, and our clients feel that and speak about that," said A'Leithia.
As the business grows, A'Leithia sees Miss Millie's being the start of a service revolution in the Bahamas; a new way to do things.
"I've been fortunate enough to have travelled to and live in a few places around the world, and often my response to the way they do things is 'Wow, that makes so much sense; that would just make life so much easier.' Then, I think, 'We need something like that back at home'," she said.
"You can create wealth from just about anything as long as you have a passion for it, or at the least an enjoyment for it. I'm a musician, and I definitely could not see myself getting anywhere near this type of business, but somehow I realised this was something that could help to bring my mom and I closer to our goals, and at the same time I realised that I actually had a deep enjoyment for this – not just the washing of people's clothes, but more so the idea that I could do it in such a way that I could actually make people's lives so much better," said A' Leithia.
For more information, contact Miss Millie's at 816-8333, via text and or WhatsApp message.