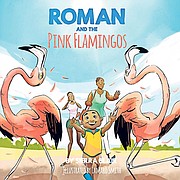 Most authors pray they will snag a spot on the New York Times, Washington Post or Amazon's best-sellers list to get wide exposure, but 14-year-old Sierra Blair took a different route.
She launched her independently published and newest children's book, "Roman and The Pink Flamingos", on the bookshelves of Atlantis Signature retail stores, making the 10 grader the youngest author to debut at the iconic ocean-side resort.
"This is a once in a lifetime opportunity and one that I am very grateful for," said the Kingsway Academy student, who weaves an engaging narrative into her colourfully illustrated tale of a uniquely Bahamian experience – a close encounter with pink flamingos at a bird sanctuary.
She partnered with Grand Bahama illustrator Lamaro Smith for this second instalment of her children's book series inspired by her three-year-old brother, Roman.
"Sierra is the youngest writer I've worked with," said Mr Smith, who has created artwork for four other children's books and is set to launch his own comic book, "Conchman, the Man of Shell", in January. "I enjoyed being a part of the team helping to bring her vision to life."
In October, Sierra's mother, media and public relations professional Tosheena Robinson-Blair, met with Atlantis's senior vice president of retail, Errol Cohen, in order to make the book available for sale in the resort's retail outlets.
"Unlike the first book, 'Roman & His Mean Family', which is available on Amazon in paperback and Kindle, we wanted to keep sales of the second book local but still reach an international audience," said Mrs Robinson-Blair. "What better way, we thought, to do this than to partner with local hotels."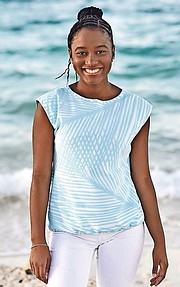 Mr Cohen, who felt the book was a fit for the resort, placed an order.
"It was perfect timing for us. Atlantis is constantly evolving as a brand and over the past year, we embarked on a new chapter we call 'Bahamas at Heart'," he said.
" 'Bahamas at Heart' is our mantra that represents our meaningful connection to our country and we are so beyond proud to continue to give local artists and entrepreneurs a platform, to connect to our guests, right on-property. We are thrilled to work with a local partner in Sierra Blair, who is aligned with our 'Bahamas at Heart' values."
The books were delivered to Atlantis on Thanksgiving Day. Ardastra Gardens placed an order of its own shortly after.
"When I was first approached and asked if we might wish to carry the book in our gift shop, I had a simple and quick response: 'Yes.' The most immediate reason was the mere fact that here was a 14-year-old who not only aspired to be a writer, but actually made it happen. Ardastra believes we need to nurture and educate our young people. They are the future keepers of our natural resources," said Ardastra's director, Katherine Solomon.
"The second reason I wanted to sell Sierra's book is the obvious subject matter and how closely the story line reflects our feathered friends at Ardastra. It not only teaches boundaries and respect for the wildlife, but also offers the authenticity visitors seek in their souvenir purchases."
Ms Solomon added: "Overall, all the essential elements we look for are contained in this one book. We are extremely pleased to be able to partner with Sierra and her family. We look forward to seeing where she might go from here."
For Sierra, the partnership goes beyond a business arrangement mutually beneficial to both sides.
"Ardastra is known the world over for its flamingos so it was very exciting to learn they would carry the book. My family and I love the marching flamingos so knowing my book could for some become a souvenir of that experience means a lot to me," said the teen who launched her writing career last summer as a family project with her mother.
The first book, "Roman & His Mean Family", aims to be the ideal for teaching the concept of boundaries to children six and under. In the 25-page picture book, precocious Roman believes his family is "mean" since they won't allow him to circumvent boundaries set for his own protection.
As the series continues to develop, Sierra said Roman will engage in even more adventures inspired by the family's real-life exploits.