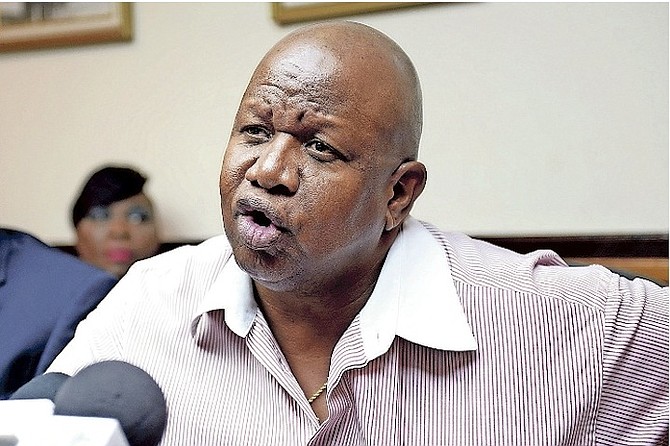 By NEIL HARTNELL
Tribune Business Editor
and NATARIO McKENZIE
Tribune Business Reporter
Trade union leaders yesterday warned the prime minister he has a month to resolve multiple labour disputes otherwise "he's going to have a national strike on his hands".
Paul Maynard, the Bahamas Electrical Workers Union's (BEWU) president, told Tribune Business that he was "just dumbfounded" by the magnitude of the problems exposed by other public sector union leaders during their morning meeting with Dr Hubert Minnis.
Suggesting that "three-quarters of the problem" stemmed from "a lack of respect" shown to trade unions by various government agencies, Mr Maynard urged the prime minister to summon the relevant chairmen and vice-chairmen and "read them the riot act".
He was backed by Bernard Evans, the National Congress of Trade Unions (NCTU) president, who yesterday said 80 percent of trade unions have current trade disputes that have yet to be resolved.
With Bahamian industrial relations "in terrible shape", the BEWU president said Dr Minnis yesterday realised for the first time the extent of the "devastating situation" confronting his administration unless immediate action was taken.
He added that while damaging industrial action, including strikes and labour withdrawals, can still be avoided, the Ministry of Labour has "got work to do" within a very limited period of time.
"Really and truly the kind of problems other unions in this country have is just ridiculous," Mr Maynard told Tribune Business following yesterday's meeting with Dr Minnis. "I was just dumbfounded.
"It's just ridiculous what's going on in these government agencies; the Public Hospitals Authority (PHA), and what's going on at the airport with Nassau Flight Services (NFS). It's unbelievable. I was sitting in the meeting and it was just a barrage of problems; all kinds of nonsense.
"At BPL, one thing they do is respect the unions. But it appears there's a lack of respect at other government agencies for unions," the BEWU chief continued. "You can't get anywhere doing that, and that is three-quarters of the problem.
"A lot of it can be solved if he [Dr Minnis] calls in the chairmen and vice-chairmen of these Boards and reads them the riot act. A lot of it could be solved. I was just shocked and flabbergasted at the problems these agencies have. It doesn't have to be this way."
Multiple labour disputes have erupted throughout The Bahamas in the past several weeks, covering virtually the entire nation from Inagua in the south to New Providence and all islands beyond.
Trade unions, especially in the public sector, have begun to flex their industrial muscles and put the Minnis administration - which is grappling with an ongoing fiscal crisis and cash flow issues - to the test with increased salary and benefits demands.
While the Government has argued that its strained financial position gives it little to no flexibility in meeting these requests, with public sector unions effectively squeezing a dry carcass, the latter will likely retort that it has been able to find money for other priorities such as the $65m Grand Lucayan purchase.
While progress was yesterday said to have been made in addressing the grievances of the Consultant Physicians Staff Association (CPSA), which represents the senior doctors at Princess Margaret Hospital (PMH) and in the public sector, the healthcare system faces further pressures from both the junior doctors and nurses union.
Strike votes, labour disputes and other tensions have also erupted in the private sector, most notably in the hotel industry - The Bahamas' largest employer besides the Government. Individual businesses impacted include the Bahamas Telecommunications Company (BTC) and Morton Salt.
The overriding concern, especially among businesses and the private sector as well as the Government, will be to avoid any disruption to the economy that may result from the heated union environment.
Mr Maynard, meanwhile, told Tribune Business that he felt "drained" following yesterday's meeting with Dr Minnis, who faces "an uphill battle" to head off widespread action by disgruntled unionists who feel their concerns are not being taken seriously.
Asked to assess the state of industrial relations in The Bahamas, he responded: "After listening today it's in terrible shape. I think the Prime Minister is now realising the devastation of the situation.
"It seems like he's got a real uphill battle on his hands. I don't know how he's going to deal with it and tackle it, but it is what it is. The Ministry of Labour is going to have to do some serious work.
"Otherwise a strike is going to come, and he's going to have a national strike on his hands. He has a month at the most. It's doable, but they've got to work at it. They've got work to do."
Backing up his assertions that government agencies were showing trade unions "a lack of respect", Mr Maynard cited the Central Bank and its desire to introduce a new staff pension plan as an example. He argued that it was talking directly to employees, rather than the union, which was "a violation of the union contract".
And, turning to the hotel industry, the BEWU president suggested many of the troubles related to the fact investors were not informed that The Bahamas is a unionised workforce prior to making their investments.
"This is a unionised environment," Mr Maynard told Tribune Business. "Investors have to understand that. A lot of the problems in the hotel industry are because they stopped telling investors it's a unionised environment."
The NCTU's Mr Evans, meanwhile, said lack of "respect" for industrial agreements and established precedents was the "overwhelming cry" of Bahamian trade unions.
Following yesterday's meeting, he said: "Most of the issues we had were legacy issues that were not addressed since we last met in either April or May of this year. All of the affiliates from the various unions had an opportunity to raise new issues.
"The overwhelming cry seemed to be the lack of respect for already-established industrial agreements; a lack of respect towards continuing negotiations; and a lack of respect from government-appointed boards. That seemed to be the clarion call; that workers feel there is no respect either for established agreements or precedents."
Mr Evans continued: "The Prime Minister sort of gave the Minister of Labour [Dion Foulkes] a charge to try and meet with all of the union affiliates. Obviously he couldn't address all of those issues right then and there, but to kind of set up timetables to meet with all of the unions.
"Maybe the Minister of Labour would be able to bring in the respective minister responsible, for instance, if it's a Bahamas Union of Teachers (BUT) issue then Minister Lloyd could be there. That could be a way forward. As to the outcome of the meeting, the PM said he would get back to us pretty much."
Mr Evans said Bahamian trade unions are right now "ready for action", but will give the Prime Minister an opportunity to address their concerns.
"The temperature right now is that at least 80 per cent of the unions have all filed trade disputes. A number of them have filed for strike votes, and some of them have strike vote certificates. They are ready for action but they will give the Prime Minister an opportunity I guess to address their concerns," he added.