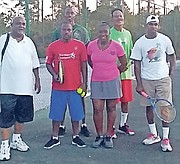 THE Bahamas Lawn Tennis Association (BLTA) will be highlighting tennis development in the Bahamas over the upcoming weeks.
The BLTA will go to Marsh Harbour, Abaco where the spotlight will be on the Abaco Tennis Association, which is seeking to promote and develop tennis by focusing on the establishment of competitive, developmental, educational and recreational programmes for everyone.
In addition, its purpose is to promote health, character, high standards of fair play, sportmanship and social responsibility.
The Abaco Tennis Association is under the direction of president Cameel McDonald.
The association is presently hosting a tennis clinic - from November to mid-December - and will break temporarily for the Christmas season.
The tennis clinics are free to children five years and older and is held every Saturday from 2pm to 4pm at Forrest Heights tennis courts. Instructors include Cameel McDonald, Macquel McDonald, Vernon Russell, Chavonne Reid, Rory Young, Sweavon Smith, Leon Pinder and Roodatram Kawalram.
President McDonald expounded on the association's mission, which is to empower young minds to become the next generation of leaders and to aid in the development of life, personal educational and professional growth. The BLTA is pleased to see tennis growing throughout the Bahamas.
"We are happy to have Mrs McDonald along with the various volunteers advancing tennis in Abaco," the BLTA said in a press release.
"The BLTA supports the development of Abaco's junior tennis programme," said the release.