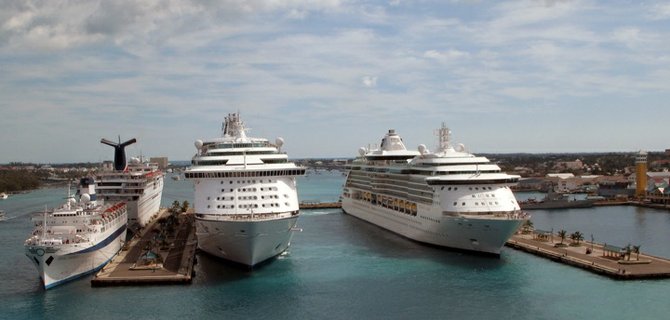 By NEIL HARTNELL
Tribune Business Editor
nhartnell@tribunemedia.net
A Cabinet minister yesterday blasted criticism of the Nassau cruise port bidding process as "absolute rubbish", adding that it was vital to the destination's "survival as a premier Caribbean port".
Dionisio D'Aguilar, pictured, minister of tourism and aviation, told Tribune Business that he was "not in the slightest bit worried" by claims that the Request for Proposal's (RFP) fairness and transparency had been compromised through its origins in an "unsolicited proposal" submitted by a major international cruise port operator and its Bahamian partner.
The minister argued that such concerns, raised anonymously just days before the December 7 deadline for bids to be submitted, represented an effort to discredit and derail a process vital to maintaining Nassau's competitiveness as a major cruise port.
"My position is that the Government of The Bahamas wants to improve the condition of the cruise port at Prince George Dock, and it determined that an RFP was the fairest, and most open and transparent way, to solicit interest in the project," Mr D'Aguilar told Tribune Business.
"That's what we're doing. I don't know how anyone can say we're not open and transparent because we're soliciting proposals from anyone who's interested. We've given people at least two months to put it together, and when the bids come in they will be evaluated on their merits by an evaluation committee."
Mr D'Aguilar conceded that such a committee, which will contain civil servants and persons with expertise in the cruise port field, has yet to be formed even though the RFP gives it just 21 days following the December 7 deadline to select a preferred bidder.
This means that the winning bidder will likely be chosen before year-end 2018, although the tender document provides for the Government to select the two best offers to compete against each other in a second round "run off".
"It's open and transparent. There's no predisposition to select anyone, as we don't know who will ultimately bid," Mr D'Aguilar told Tribune Business in defence of the process. "To say we're leaning one way or the other is absolute rubbish.
"I don't see how people can be opining on the fairness of the process when it's not been completed yet. Let us review the bids, go through the process and then people can complain as to whether it is fair or not.
"We think this is very fair, and we will make a decision in the best interests of the Bahamian people. We ultimately need to improve conditions at the port; that's the bottom line."
Mr D'Aguilar hit back after unnamed parties expressed concerns that the cruise port RFP favoured the consortium whose initial proposal triggered the launch of the formal bidding process.
Tribune Business heard similar views last week, which appeared to have been triggered by clause 10.1 in the 11-page RFP. This says: "The RFP is being issued by the Government following upon an unsolicited proposal submitted to it for the project. The unsolicited proposer is seeking the exclusive right to design, build, operate and maintain the Nassau cruise port.
"The Government acknowledges that the project, having arisen out of the unsolicited proposal, has been of considerable benefit for the development of the Government's aspirations for the facility becoming a world-class cruise port."
The "unsolicited proposal" came from Global Ports Holding, which operates multiple cruise ports in Europe and the Far East, together with its Bahamian partners - BISX-listed Arawak Port Development Company (APD) and CFAL (formerly Colina Financial Advisors).
The consortium's 49-page proposal, previously exclusively revealed by Tribune Business, said its plans to transform Nassau's cruise port will give the economy a $16bn boost spread over 30 years. It added that a $285.7m upgrade of Prince George Wharf through a waterfront entertainment park would inject an extra $216m into the Bahamian economy in the first year alone.
This appears to have sparked fears among some rivals that the Global Ports Holding consortium has an "inside track" on a deal to take over the cruise port's operations and management, and finance its transformation into a world-class port destination experience.
Private sector sources close to the bidding process, while agreeing that the "unsolicited proposal" likely played a key role in helping the Government to craft the RFP and informing it on what to seek, backed Mr D'Aguilar in dismissing concerns over fairness and transparency.
"It doesn't invalidate the process," one source, speaking on condition of anonymity, said. "The process is saying: 'This is what it is, see if you can match it'. Everybody has to submit a bid in accordance with the RFP."
Indeed, the Government would have left itself wide open to accusations of unfairness and lack of transparency if it had failed to disclose the RFP's origins - and the existence of Global Ports Holding's unsolicited offer - in the tender document.
And, had it not launched an open public tender process, it would have been exposed to claims of a "fix" if the cruise port management contract had been handed to the company and its Bahamian partners.
The RFP is also consistent with the Government's recently-launched public-private partnership (PPP) policy framework, which makes clear that - in the case of "unsolicited proposals" - it reserves the right to seek competing, rival bids through a public tender process.
Mr D'Aguilar, meanwhile, said that following his recent voyage to Nassau on Royal Caribbean's Symphony of the Seas vessel, the world's largest cruise ship, "you immediately get why it's very important to improve conditions at the cruise port" and help secure the hundreds of businesses and jobs that depend upon it in the Bay Street/downtown Nassau area.
He added: "Those boats are absolutely fantastic, and make it very difficult for people to come off that boat. They have a wide array of slides, restaurants and a 'surf the water' contraption.
"You come off that boat and get bombarded by the very sub-standard offering of the Nassau cruise port. We need to do something. Everybody is trying to find an angle why not to go forward. It needs to go forward if we're going to survive as the premier cruise port of the Caribbean.
"There are a lot of naysayers trying to nail this whole approach," Mr D'Aguilar continued, hinting that political and vested interests might be involved, "but the Government of The Bahamas does not have the funds to do what needs to be done to improve it. We have to enter into a PPP, and use private sector funds to improve the cruise port."
Further explaining the Government's rationale for going the RFP route, the Minister said: "We received it [the Global Ports Holding bid]. It got into the public domain, everybody knows what it is. We said stop, let's do an RFP process, and make it fair and transparent.
"I'm not in the slightest way worried that this is not an open and transparent process. There'll be a lot of people out there trying it on. We have to wait and see who puts in a proposal. I don't know who will, but I'm as eager as you to find out. I know of one or two who have expressed an interest, but who comes to the table with a meaningful proposal we will see on Friday."
Given the specialist, capital-intensive nature of cruise port operations, Tribune Business sources have suggested that the Government is likely to attract three to four serious bids that meet its criteria.
This newspaper previously revealed that besides Global Ports Holdings, another likely contender is the 50-strong Bahamian investor group, Cultural Village (Bahamas). Headed by Gerald Strachan, the former Family Guardian president, and ex-tourism minister, Vincent Vanderpool-Wallace, they are understood to have partnered with a group of cruise lines featuring Royal Caribbean.
Another component to the Cultural Village (Bahamas) offering is Royal Fidelity Merchant Bank & Trust, the Bahamian investment bank, which will raise local financing for the project should the consortium be successful.
Tribune Business also understands that another Bahamian investment house, Providence Advisors, headed by Kenwood Kerr, is also partnering with another group to submit a bid. All prospective bidders are now racing to finalise the terms of their offers and partnerships with just 48 hours left before deadline.