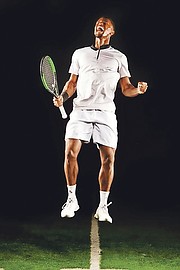 By BRENT STUBBS
Senior Sports Reporter
bstubbs@tribunemedia.net
BIRTHDAY boy Justin Roberts and Davis Cupper Baker Newman advanced to the main draw of the respective tournaments they are competing in this week in the United States and the Dominican Republic.
At the USA F35 Futures in Tallahassee, Florida, Roberts clinched his berth into the men's singles main draw with a 7-5, 6-4 win over American Tyler Mercier.
Roberts, who turned 22 yesterday, won his first round match 6-0, 6-0 over American John Tierney.
Winner of the Leevan 'Superman' Sands Courage Award at the Ministry of Youth, Sports and Culture's National Awards Night on Saturday, Roberts will now prepare for his first round match in the main draw against qualifying lucky loser Enzo Wallart of France.
Meanwhile in the Dominican Republic F2 Futures, Newman was the only one of three Bahamians to get out of the qualifying round when he won 6-2, 6-4 over American Preston Brown.
Newman also won his second round match 6-2, 3-0 after his opponent, Carlos Navarro of Colombia was forced to retire. Newman's first round victim was Franco Feitt of Argentina, who lost 6-3, 6-1.
At the tournament, Kevin Major Jr and Philip Major Jr both went down in the final round of qualifying.
Kevin Major Jr lost 7-6 (2), 6-2 to Simon Freud of Sweden. However, Major Jr won his second round 7-6 (3), 6-0 over Alex Blumenberg of Brazil. In the first round he won 2-6, 7-6 (3), 301 as American Matthew Mendez retired.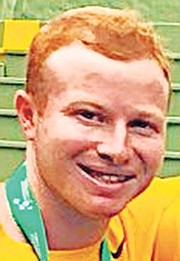 Philip Major Jr got eliminated in the third round after he lost 7-6 (3), 6-3 to Milen Ianakiev of Germany. Major Jr won 6-3, 7-6 (5) over American Christopher Rosensteel in the second round. His first round resulted in a quick moment on the court as he won 3-0 after Canadian Stefan Frljanic retired.
The players are gearing for the Bahamas Association of Athletics Association's annual Georgio Baldacci Invitational in two weeks at the National Tennis Center.
The tournament will serve as the trials for the team that will represent the Bahamas in the American Zone II Davis Cup tie next year.
Last year, the team of Philip Major Jr, Baker Newman and Jodi Turnquest, captained by Marvin Rolle, advanced the Bahamas out of the American Zone III and into zone II.
For their efforts, they were selected as the Team of the Year and Rolle emerged as the Coach of the Year during the ministry's awards night on Saturday.