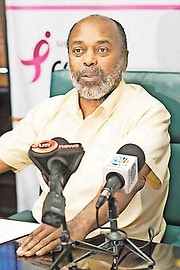 By RASHAD ROLLE
Tribune Staff Reporter
rrolle@tribunemedia.net
ABOUT 46,000 Bahamians are enrolled in the government's National Health Insurance programme as of Monday, National Health Insurance Authority Chairman Dr Robin Roberts said yesterday.
He was speaking to members of the Rotary Club of Southeast Nassau.
"We were quiet the first year," he said, "and people actually thought that NHI was scrapped. It was not. We continued the enrolment of the primary care programme."
Dr Roberts, pictured right, has been travelling the country selling the NHIA's plan for universal coverage to Bahamians.
He noted that the road to universal coverage is often long and winding.
"America started in 1917 and they haven't reached it yet," he said. "Germany, one of the world's leaders in healthcare, when they introduced National Health Insurance in 1884, they didn't reach universal coverage until 1947. Canada took another 20, 30 years before it achieved its goal."
Under the NHIA's plan, those enrolled will have expanded benefits. The programme will mandate that employers ensure all employees have health insurance through contributory mechanisms. According to the NHIA, a recent survey showed most NHI beneficiaries have had satisfactory experiences with the programme.
The survey featured 5,122 respondents and took place between July and November.
Dr Roberts said of the survey: "As we take steps to improve NHI Bahamas, it is encouraging to see that so many Bahamians have already had positive experiences with the programme so far. The positive feedback collected from the patient satisfaction survey is testament to the good work NHI providers are doing to provide quality, affordable care to their patients.
"With the expansion of primary care services and the implementation of the high cost care treatments for certain prevalent diseases, we expect even more Bahamians will be able to experience the benefits of the NHI programme."