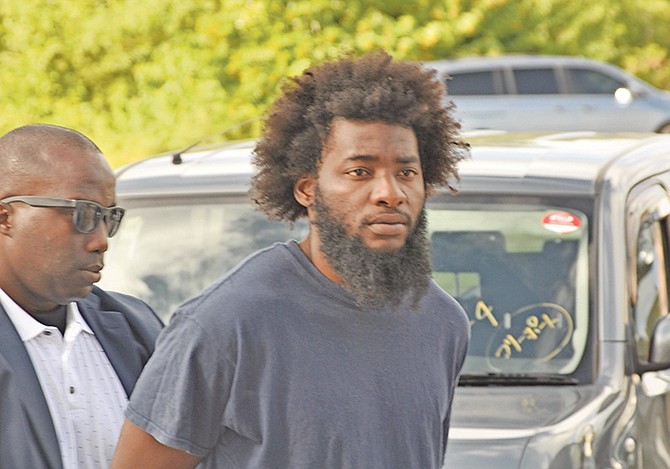 By DENISE MAYCOCK
Tribune Freeport Reporter
dmaycock@tribunemedia.net
A 26-year-old Freeport man was convicted of obstruction of justice and sentenced to more than a year in prison by a Freeport magistrate.
Donovan A Hanna, of Hearne Lane, appeared on Monday before Magistrate Charlton Smith in the Freeport Magistrate's Court, where he pleaded guilty to the charge of obstruction of justice in connection with a murder trial.
According to the particulars, the accused on Tuesday, November 27, attempted to obstruct justice by improperly communicating with a female juror in a murder trial in the Supreme Court.
The juror, who was sitting on the trial of Renaldo Hudson, went to Central Police Station and informed the police that while on break she had received a call from Hanna who she had known for many years.
The juror said Hanna asked to meet up with her and questioned her concerning matters pertaining to the trial. The juror told police that when she told the accused she could not discuss the case with him, he responded, "Miss, you think they care about you? You think they care about you all?"
The juror was in fear for her life and showed the text message she had received from Hanna to the jury foreman who reported it to the judge.
The matter before the Supreme Court resulted in a mistrial. Hudson, 21, was on trial for armed robbery, and the murders of Jacqueline Armbrister, 55, and Noel Hamilton, 57, and the attempted murder of Agatha Gaitor on March 21, 2016, at a wooden structure on Bruce Avenue and Hearne Lane.
After he pleaded guilty to the charge of obstruction of justice, Magistrate Smith convicted Hanna and sentenced him to 18 months imprisonment at the Bahamas Department of Correctional Services.