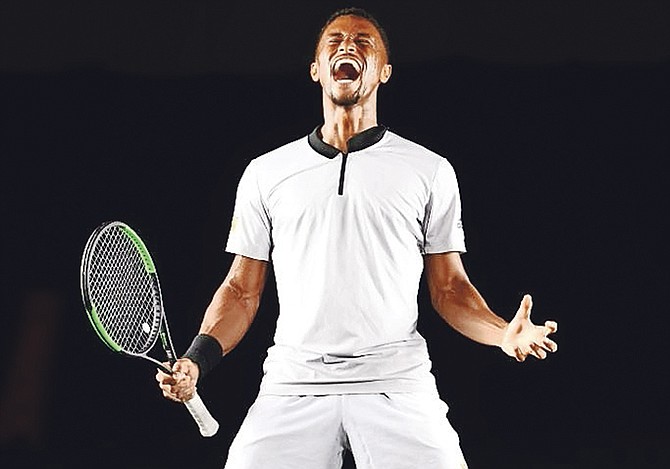 By BRENT STUBBS
Senior Sports Reporter
bstubbs@tribunemedia.net
Justin Roberts, still celebrating his birthday and the Ministry of Sports' recognition with the Leevan 'Superman' Sands Courage Award, continues to turn in some tremendous performances in his comeback from an injury as he advanced to the quarter-final of the International Tennis Federation's USA F35 Futures in Tallahassee, Florida.
After turning 22 years old on Tuesday to go with the Ministry's honour of the Courage award during their 2018 National Awards Night at SuperClub Breezes on Saturday, Roberts pulled off a 7-6 (5), 7-6 (4) win over American Paul Oosterbaan in a match that lasted one hour and 29 minutes yesterday.
Oosterbaan, 23, is ranked at 777 in the world, while Roberts, the only Bahamian player with any ATP points, is pegged at 1,970. So it was a remarkable achievement for Roberts, who advanced out of the qualifying round over the weekend. He won his first round match 2-6, 7-6 (4), 6-2 over qualifying lucky loser Enzo Wallart from France on Tuesday. He will now prepare to take on No.2 seed Dmitry Popko, a 22-year-old from Kazakhstan, who is ranked 515.
Immediately following the match, Roberts had to prepare for a final exam so he was unavailable for comments.
However, when contacted, his father Bruno Roberts was thrilled to sing the praises of his son.
"With Justin coming back the way he did from the injury, that is huge," he said. "We are excited for him. He works hard. He's a smart kid. He could be doing whatever he wants to do, but he loves tennis. So we will continue to support him. At the end of the day, it's all up to him in whatever he does between those lines (on the tennis court)."
And in the classroom as well.