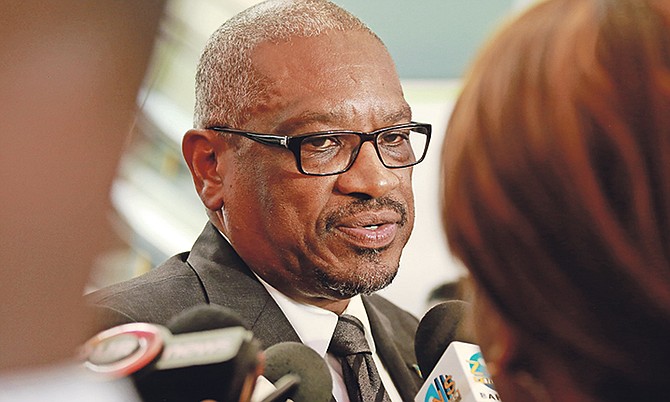 By KHRISNA RUSSELL
Deputy Chief Reporter
krussell@tribunemedia.net
DESPITE announcing more than a year ago his administration's intention to amend the Immigration Act to allow Bahamian women the right to automatically transfer citizenship to their children regardless of birthplace, Prime Minister Dr Hubert Minnis suggested yesterday there has been little movement on the issue.
"We've only been in one year and a half you know. You want me undo everything in one year and half? We still have seven and (a) half more years to go," Dr Minnis quipped yesterday, when he was asked for an update on the proposed change.
He did not give more specifics on the matter.
The issue was the first of four questions on the June 8, 2016 constitutional referendum but was overwhelmingly rejected. Of 83,271 total votes cast for this question, 32,249 people voted 'yes' while 51,022 voted 'no'.
Presently, those born in another country to a married Bahamian father are able to automatically receive Bahamian status, but not if the father is non-Bahamian and the mother is Bahamian. Instead, these children would have to apply to receive Bahamian citizenship.
In November 2017, Dr Minnis told the House of Assembly: "My government will make changes to the Immigration Act to ensure that all children born to Bahamian women, single or married, out of the Bahamas, are automatically Bahamians."
Earlier this year, Attorney General Carl Bethel told The Nassau Guardian the Minnis administration had not forgotten its promise to amend the law.
At the time, he indicated the change could mean something different from what the prime minister pledged.
He told the daily: "Any law to expedite the granting of citizenship to children of Bahamian women who are married and whose children are born abroad or Bahamian men out of marriage, must still remain consistent with the Constitution.
"We are looking at an amendment to the Bahamas Nationality Act which gives an unfettered discretion to the minister to grant citizenship to the child of any Bahamian, male or female.
"The thinking would be to really make the scales more in favour, but we can't absolutely make it an absolute right to say that the minister may grant citizenship to the child of any Bahamian."
Mr Bethel further said the wording would be, "may, upon application, may grant" citizenship.
"…It is still a discretion that he can exercise or refuse to exercise," he said.
"All we do is add the words 'upon application' to indicate that the policy of the legislature would be to have a speedy consideration.
"We cannot legislate in a way that flubs the Constitution."