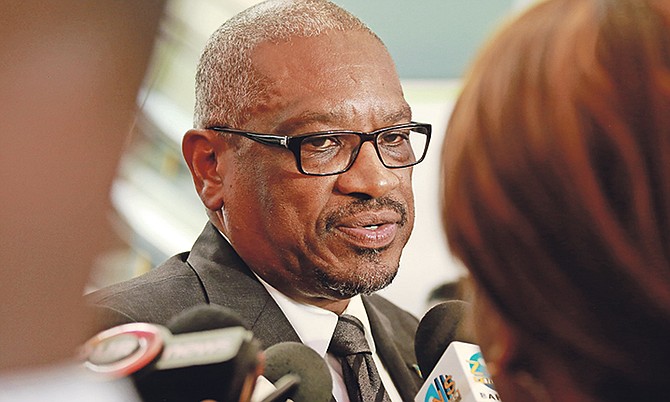 By RICARDO WELLS
Tribune Staff Reporter
rwells@tribunemedia.net
HIGH energy costs and a lack of efficiency in the sector continues to stifle major segments of critically important and budding industries, according to Prime Minister Dr Hubert Minnis.
In the keynote address to close the Bahamas Hotel and Tourism Association's annual meeting, Dr Minnis yesterday proposed developing water and electricity supplies as key cogs in building platforms for development in family island communities.
Addressing particularly energy-reform strategies, Dr Minnis said he envisions a system that would allow for business establishments to act as an energy and internet nerve-centre for their surrounding communities; contending that the strategy would be the only way to "force" efficiency into the country's energy generation sector.
Dr Minnis told the conference: "We must transition as quickly as possible to renewable energy, and to solar energy in particular. (Thursday) I visited a business entity in the Centreville area, Palmdale area, Nassau Agencies, and I was amazed, astonished and happy that, that enterprise, Nassau Agencies, had gone totally green; solar. And I challenged the owners of that enterprise to commence what I term in the Bahamas, the internet energy revolution. Meaning that if he has sufficient supplies of energy in his establishment, there is no reason why the inter-connected community, or homes or businesses, cannot connect to him so that he supplies energy for that particular environment."
He continued: "So let us start in the Bahamas the internet energy revolution. BEC will try to stop us, because they don't want us to come off of the grid, but the time has come when hotels and other establishments must come off the grid. That is the only way to force efficiency in BEC."
Following the address, Dr Minnis was asked by reporters to clarify his comments on BPL/BEC, to which he said the entire country must plot a course towards reliable energy production independent of legacy energy producers.
"We have to move towards green energy, and the cost is very high," he said.
He added: "(As it relates to) businesses, I don't see why they should not be encouraged to move toward green energy. We want to do our part in terms of carbon emissions. Now obviously, there will be the concern…… there will be concern that you are taking so much revenue away from the power station, but let's be efficient; let's be efficient, if we are efficient, then that may not have the great impact that we expect."
Dr Minnis theorised that a base fee or minimal fee structure could be utilised, asserting that persons that partially or completely leave the grid for varying periods of time pay a fee to, as he said, "ensure the stability for everyone."
"But I think, he continued, "we should push towards that, especially in family islands. We cannot, it is not cost-effective to run transmission lines for 10, 12 miles, to reach one home, when we can solarise and cut our costs by as high as 90 per cent. But we will bring it down."
The plan encouraged by Dr Minnis yesterday has been mentioned in political and economic spheres for much of the past decade.
Most recently, the Inter-American Development Bank (IDB), in outlining the terms of reference (TOR) for a consultant who will produce a "framework" for renewable energy and investment, reiterated that the Bahamas ranks last in the Caribbean for "penetration" of its generation mix "despite possessing ample resources" when it came to solar.
A recent Tribune Business article that referred to the IDB report, noted a segment of the document that pointed out that while multiple companies have inquired about renewable self-generation projects able to produce one megawatt of energy or more, and sell any excess power to BPL's grid, the corporation's small scale renewable generation (SSRG) initiative falls far short of what is necessary.
"Market governance and regulatory-related challenges continue to be among the hindrances to the implementation of several energy projects, especially with respect to renewable energy and private sector participation," the IDB said. "At present there is no comprehensive framework for distributed and utility-scale renewable energy that reflects local technical, legal and economic conditions.
"An off take agreement standard will be needed for medium and utility-scale solar, laying out the conditions and obligations of the electricity off-taker, to provide investors with certainty regarding the return on their investment. Stakeholders need to understand the reference price ceilings that could be used for competitive tender processes for utility-scale solar."
The report continued: "One of the issues at the heart of the challenge is the fact the value of solar PV (photovoltaic) on the distributed generation (DG) level is not fully understood by all energy stakeholders. This is in part leading to prolonged implementation of renewable energy projects and stalled financial closure for others. A study of this nature will enable Government to participate and contribute to the policy and regulatory discussion on the renewable energy plan."
The National Energy Policy (NEP) has listed as one of its goals, to, by 2030, have 30 percent of all energy produced in the Bahamas be by renewable sources, such as solar, wind and biomass.
All this comes in the face of widespread energy fee increases and disconnections.
Late last month, Works Minister Desmond Bannister revealed that 5,412 households across the country are "off the grid," as a result of not paying energy bills for 60 days or more and collectively owe Bahamas Power and Light more than $5m.
He also revealed that to date, BPL has balances in receivables of $91,796,126; asserting that the corporation is too cash strapped to make any immediate fundamental changes.