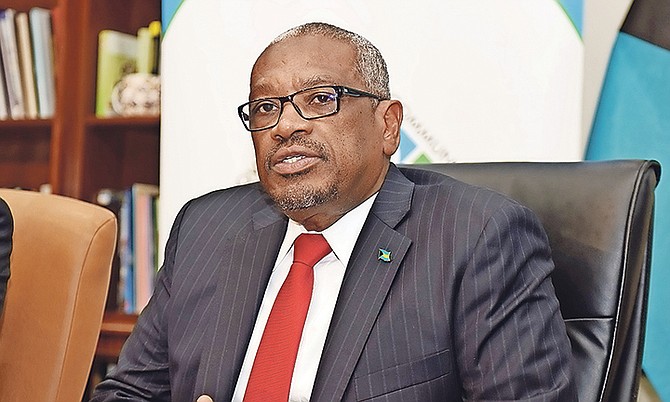 By RICARDO WELLS
Tribune Staff Reporter
rwells@tribunemedia.net
PRIME Minister Dr Hubert Minnis said campaign finance legislation and the full implementation of the Freedom of Information Act are still being prioritised by his administration, insisting the implementation dates for both will come during this term.
In an interview with reporters on Friday, Dr Minnis said he had more than three years to fulfil his government's promises and again spoke of his confidence of being elected to serve another term.
"I promised," Dr Minnis said, referring the promises the Free National Movement made on the campaign trail to implement campaign finance laws once elected.
"… You also promise me five years. My five years ain't up yet and you will promise me another five years. So, I have five years to put in the campaign finance reform, and I have another five years for you to see it working properly."
In a follow-up question on the implementation of freedom of information laws, the Killarney MP added: "That is an ongoing process. We should, hopefully very soon."
He continued: "I don't want to give a date because you will hold me to that. Hopefully very soon the commissioner, we are looking for individuals to fit that role, so we will get the commissioner first."
Dr Minnis concluded: "It is an ongoing process. It is not something that is just going to happen like that overnight, you have access to this and that. There are a lot of agencies and different areas that has to be put in place."
In recent months, various activists have expressed concerns about a lack of campaign finance laws and the fact that FOIA has not been fully enforced.
The government's last mention of campaign finance legislation came in July, when press secretary Anthony Newbold said he was unsure if the Minnis administration would bring the legislation this term.
When told Dr Minnis promised it this term, Mr Newbold told reporters: "The prime minister says he's going to do a lot of things. He also says he wants nine more years, we'll see what happens. The Fiscal Responsibility Bill is designed primarily to hold the government to account."
As for the FOIA, Attorney General Carl Bethel in April revealed that a separate line item will be added to the 2018-2019 budget to fund intense and widespread training needed at every department, agency or corporation that has a substantial government interest.
That effort was to come in preparation for the full enacting of FOIA.
"Full implementation is not a one-day experience," Mr Bethel said at the time, "there has to be extensive training at every level in the public service and civil society. Every single government administrator's office, in every Family Island no matter how remote, will have to have an information officer who has to be trained."
Meanwhile, it has been reported that the government intends to borrow $30 million from the Inter-American Development Bank (IDB) to support the rollout of the Freedom of Information Act.
This was revealed by Deputy Prime Minister and Minister of Finance Peter Turnquest who tabled a resolution in the House Wednesday night.
He said the loan will help in "providing support for the implementation of the Freedom of Information Act (FOIA) which includes: developing and implementing a master plan for the rollout of FOIA; providing technical support for the set-up and operation of the office of the information commissioner; conducting training to information managers to enhance transparency in public sector entities; and enhancing inter-institutional coordination to effectively implement FOIA provisions."
The loan is also expected to help in "designing and implementing a government cloud computing service that will allow government agencies to access a shared e-government infrastructure and applications," Mr Turnquest said.