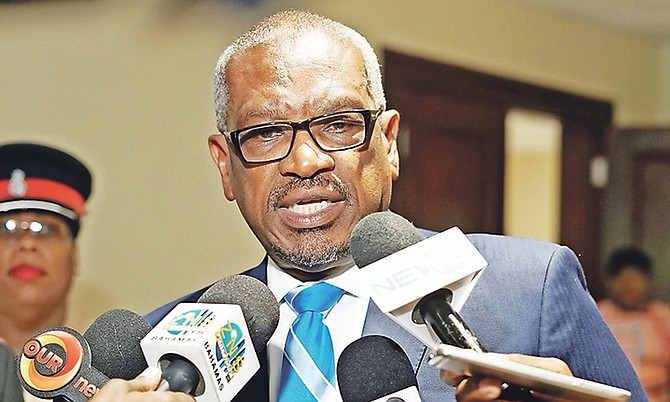 By Malcolm Strachan
WITH the nation on pace for its lowest murder count in a decade, the government has much to be proud of with regard to its crime fighting efforts. The previous government campaigned and won the 2012 election largely on an empty promise to eradicate crime. Unfortunately, we all know how that panned out. Successive murder records were set under the former administration and fear was at an all-time high with rapes, robberies and murder rampant throughout the country.
Now, as the victims of homicides are mostly being confined to a group of prolific offenders - many out on bail for serious crimes - there is a notion that the vast majority of the killings are retaliatory. Certainly, as the holiday season approaches, so the level of fear increases a few notches. The month of December, opening with two double murders – one in particular, a gruesome slaying in broad daylight of a man and woman on the premises of Sandilands Rehabilitation Centre – have many in the nation feeling anxious.
While murders have decreased by around 30 percent from last year, the criminal element in the country is still very frightening. The prospect of being in the wrong place at the wrong time when bloodthirsty killers exist among us is an ever-present reminder of how dangerous the times are.
This causes much concern when we hear the prime minister – not once, but twice – claim the fear of crime is down. For one to suggest the Bahamian people are no longer scared of crime is an absolute absurdity, and any fair-thinking person would not be off-base to question the mental faculties of one who makes such an utterance.
Sadly, Prime Minister Minnis' suggestion that the decrease in murders is a barometer for the Bahamian people's level of fear for all crime is either an intentional misrepresentation or an indictment on his senses. The prime minister certainly ought to be careful of making such irresponsible statements.
When he spoke to the media at the end of last week, the prime minister said: "Now when you talk to the average Bahamian yesteryear, there was great fear of crime. They were fearful of coming out of their homes, fearful of driving around, etc. That fear has been relaxed. They're no longer fearful of crime. They're no longer fearful of going to shopping centres, environments, etc, and we will even decrease that even further."
Indubitably, the prime minister must have only had conversations with his constituents in Killarney, as his assertion is not in line with the thinking of the majority of the Bahamian people. Commentary underneath the digital publication of The Tribune's article, as you would imagine, did not take so kindly to the prime minister's pronouncement.
Commenters did everything from question Dr Minnis' mental aptitude to suggesting he attempt going out in Nassau after dark. While the prime minister's disconnectedness with the sufferings of the people have come into question before, it is quite alarming that he would make such a suggestion with a straight face.
Surely, he must be kidding us, right?
Actually, a greater question comes about as a result of the prime minister's declaration of the citizenry no longer being fearful of crime: Why would he politicise this issue just to voice support of the RBPF, as if both are mutually exclusive? Rightfully, the Bahamian people are fearful of crime. Especially if you live in Nassau - where the majority of crime takes place (on an island seven by 21 miles) - unless you live in a gated community, the threat of crime is always a near and present danger.
Perhaps the prime minister wants only to highlight the good job the police is doing to continue to deflect from the conversation of capital punishment. While in opposition, he was a fervent advocate of "popping the necks of murderous scumbags". Yet, upon becoming prime minister, he has not shown the impetus to change the constitution and remove power from the Privy Council as it relates to our ability to hang the nation's most violent offenders.
Rather, the tango continues.
Additionally, technology such as CCTV and gunshot detection devices are still seemingly a moving goal post. Since request-for-proposals were put out by the ministry of national security a few months ago, we have yet to hear anything else on the matter. Aside from the perpetual call from the Bahamian people to bring more preventative crime-fighting measures on stream, we've not heard much from the government.
Moreover, while we celebrate the small victory that exists in the lowest murder total in the past decade, we can just as easily see when a spike occurs as a result of a series of retaliatory killings taking place. Case in point – the series of shootings that took place last week. While no connection was made by the police, it must be acknowledged we have seen similar domino effects in the past. One killing begets another and another.
Nonetheless, after the carnage under both of the previous administrations, murder became commonplace in our society. Likewise, the notion of murder being as low as it is in comparison was a dream.
Again, while we laud the numbers, the fact 80-plus lives have been taken as a result of violence still forces us to put things in perspective.
One thing the prime minister has said that is true is that one murder is too much. As we round off the year and usher in 2019, it is our sincere hope that not just murders, but all crime will continue to decrease.
At the same time, The Bahamas is suffering socially, and that must be addressed as a proactive and preemptive measure to crime. Fighting crime, in its essence, denotes reaction by the police force, and they've been doing a great job.
However, the level of fear, while it may have not increased, has certainly not decreased. The job we do before a crime is committed is far more important than what we do in the aftermath.
The years of murder records being crushed as blood painted our streets has arguably left the citizenry experiencing mass PTSD. And certainly, there is a sense that gang violence is a powder keg that can explode at any moment.
This isn't anything that we've never seen before.
That said, the prime minister has provided his assurance that they intend to decrease crime even further. This is certainly most welcomed and supported, as we hope that Minister of National Security Marvin Dames and Commissioner of Police Anthony Ferguson can build upon what has made them successful this past year.
Perhaps, one day, we can all experience the utopia of not being afraid of crime on our streets anymore.
Until then, let's do our best to keep ourselves, as well as our families, safe.