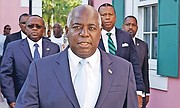 By RASHAD ROLLE
Tribune Staff Reporter
rrolle@tribunemedia.net
THE Non-Profit Organisations Bill that passed the House of Assembly on Wednesday does not explicitly exclude political parties from its financial disclosure requirements, Official Opposition Leader Philip "Brave" Davis has said.

Meanwhile, the Bahamas National Trust weighed in on the NPO Bill yesterday, saying it has reviewed the legislation and has concerns about the confidentiality of the reporting requirements.
The bill demands NPOs disclose information about financing and other things. The bill would bring The Bahamas in compliance with the European Union's anti-money laundering directives and must be passed by January or the country could be blacklisted.
The bill's definition of NPOs is more expansive than the definition in the Companies (Non-Profit Organisations) Regulations 2014. It refers to an NPO as a "body of persons whether incorporated or unincorporated or a trust formed and established for the purpose of promoting public policies or objects that are religious, charitable, educational, scientific, historical, fraternal, literacy, sporting, artistic or athletic, and whose profits, if any, and other income are applied to the promotions of those objects, or for which there is a prohibition of any dividend or refund of contributions to its members".
The reference to "promoting public policy" is new. Its inclusion has prompted observers to ask whether political parties have inadvertently become subject to disclosure requirements for the first time in history since they are often defined as groups organised to support certain public policies.
"In the absence of campaign finance reform, how is this to be dealt with?" Mr Davis asked. "I don't think it was envisioned that this would pertain to political parties."
He said to remove doubt, the Minnis administration should have made it explicitly clear in the bill that its provisions aren't applicable to political parties.
"In the absence of clear campaign reform, which is a peculiar aspect of democracy, you'd expect it would be more expressive that it doesn't pertain to political parties instead of expecting it to be implied," Mr Davis said.
"I think 'promoting public policy' is one thing as opposed to implementing and executing them. As a political party, I might help my group to win, and once I win I will execute and formulate public policy."
However, he said this view relies on making a "very fine distinction", one that may not be definitive.
Bahamas Christian Council president Delton Fernander said on Thursday it is "duplicitous" for political parties not to be captured in the bill.
"If we want to inquire into all nonprofits, it should be all," he said. "It cannot be that you are more concerned about the churches than the tremendous amount of finances that go through parties and elections that have no accountability to the nation. The church can't be seen to be in need of scrutiny and politicians in need of none. If there is to be a separate category for politics shouldn't there be a separate one for religious organisations?"
Mr Davis expressed a similar view in the House on Wednesday. "You promised it," he said at the time. "You marched for it. We March marched for it. Well, I wasn't among the 'we' there but the prime minister was. He marched with We March and promised campaign finance reform. It's been 18 months since that glorious day and still crickets on the subject."
Legislation governing the finances of political parties was an important plank for the FNM leading to the 2017 general election, though little has been said about it since. The lack of legislation governing monies political parties receive has long disturbed transparency advocates. On Friday, Prime Minister Dr Hubert Minnis told reporters campaign finance laws were still on his administration's agenda.
Yesterday, the BNT said it has a few issues with the bill that it plans to discuss.
"Deputy Prime Minister and Minister of Finance Peter Turnquest has explained that the overriding objective of the bill is to provide for regulations to ensure that non-profit organisations are operating in a transparent manner and are not engaged in activities that involve corruption, money laundering or financing of terrorism," the BNT noted in a press release. "Some civil society organisations have expressed concern over confidentiality with regards to some of the reporting requirements and the BNT does share some of those concerns.
"The Bahamas National Trust has reviewed the bill and has determined that by virtue of the BNT Act, the organisation is compliant with most of the conditions in the legislation. BNT does have a few issues which we will discuss with other civil society organisations and bring to the attention of the government. The BNT understands the need for transparency and proper regulation of the nonprofit sector."
The bill is due to be debated in the Senate today.