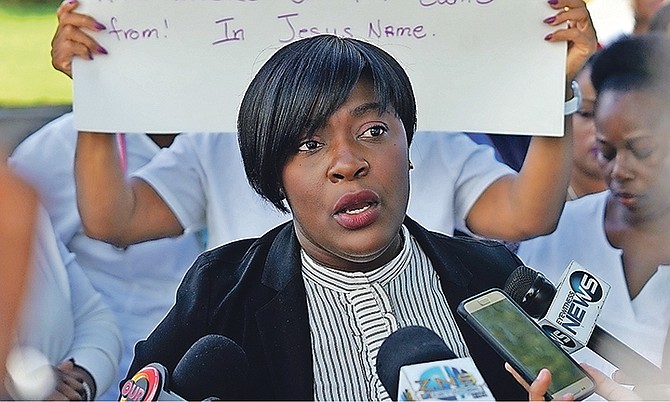 By KHRISNA RUSSELL
Deputy Chief Reporter
krussell@tribunemedia.net
DESPITE the Public Hospitals Authority's decision to indefinitely defer its new shift system implementation for nurses, Bahamas Nurses Union president Amancha Williams said yesterday the union remains firmly committed to taking industrial action.
According to Ms Williams, deferring the shift change "doesn't still mean they won't do it," adding more than 600 nurses last week voted in favour of strike action, is evidence that they remain angry. However, she said the union will wait to see the outcome of negotiations before it decided when a strike could occur.
Last week, PHA said it would indefinitely defer the change but maintained new shifts were in the best interest of nurses and patients.
This, according to Department of Labour Director John Pinder, means the nurses have essentially nothing to dispute.
"They really don't have an issue," Mr Pinder told The Tribune yesterday. "They filed on the shift system and the PHA cancelled so there is really nothing to strike about."
However, he said the BNU would still be given a strike certificate which is expected to be issued at some point today. He said as long as the union did not withdraw its grievance they could still take action.
When she was contacted yesterday, Ms Williams said she was assured by Prime Minister Dr Hubert Minnis that he would make an intervention on their behalf, but she suggested there was yet to be a satisfactory resolution.
"Deferring doesn't mean they won't bring it on," the BNU president said.
Asked if there was planned industrial action this week, Ms Williams said: "We intend to lay all of our cards on the table. The same thing as the doctors and if there is no reply you move forward. So I can tell you we are firm in our decision to move forward, but we won't strike without negotiation. They will have to meet all our demands.
"We showed them we had the majority during the vote and they still want to show their colours."
She continued: "The Bahamas can see who is the bully here. They are the bullies."
Ms Williams further questioned why the Department of Labour had not issued the strike certificate since they took the vote last Tuesday.
"Tuesday will make a week we are waiting for the certificate. We don't have anything. We should have had it in less than two days. John Pinder signing off on it means nothing to us. It being signed and in our hands is in our interest.
"That same talk could go on for weeks," she also said, referring to Mr Pinder's remark that it had already been signed off on.
Last Wednesday, the PHA issued a press statement maintaining the shift change was best, maintaining a new system would "improve the delivery of healthcare to our patients and ensure better patient outcomes through better nursing coverage and reductions in nurse related accidents and errors; eliminate inequities caused by the 'four nights on/four nights off' system which resulted in night duty nurses working 157 days per year on average, compared to 234 days per year on average for nurses assigned to day shifts; establish a standardised five-day, 40-hour work week with 8-hour daily shifts; and provide compensation for nurses scheduled to work between the hours of 6pm to 6am by way of a night duty premium of $1.75 per hour which would be paid in addition to their standard hourly pay."
The proposed shift change from four on/four off to five on/two off is the only dispute the Bahamas Nurses Union has with PHA, the governing body said.