By RICARDO WELLS
Tribune Staff Reporter
rwells@tribunemedia.net
A LACK of money has kept Tarique Miller, a nine-year-old boy diagnosed with hereditary angioedema (HAE), away from "critically important" medicine for almost six months.
Angelica Miller, Tarique's mother, said her son's lifelong condition had now progressed to the "scariest" she has ever seen it.
According to Ms Miller, Tarique has been hospitalised twice a month for much of this year, as the family's limited financial resources have left the youngster without his medicine since June.
"Without financial assistance, getting his medication is hard and scary. It's the scariest we've seen it," she said.
"Since June to no longer than two weeks ago, Tarique has been admitted to the hospital twice a month. His attacks have been happening more often now."
Ms Miller added: "I have been trying to get another dosage for him but I simply can't afford it. I am still waiting on Social Services to assist, but there has been no clear answer with that."
US doctors have advised both the family and local health officials to keep at least two vials of the medication on the island every year.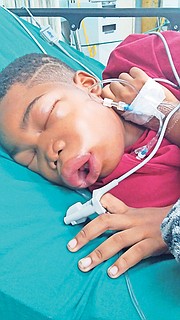 In cases where the drug is not available, Ms Miller is required to raise the funds needed to purchase the medicine.
Over the past year, Ms Miller has resorted to water drives, cookouts and letters of support to assist her son as best she can.
She told The Tribune that despite her best efforts, things have not gone well.
HAE is caused by a low level or improper function of the C1 inhibitor protein, the result of which causes the rapid swelling of the hands, feet, limbs, face, intestinal tract, voice box, or windpipe.
During flare-ups, the body experiences major swelling, particularly in the chest cavity, resulting in restricted breathing. Patients suffering with the condition are unable to produce the necessary protein needed to reduce swelling and fluid retention in the body.
To combat attacks – which can last up to six days – Tarique requires a synthetic protein that could cost anywhere between $3,500 and $4,000 per dose.
Tarique was formally diagnosed by doctors at the Joe DiMaggio Hospital in Florida in November of 2014.
Anyone willing to assist Tarique can do so by contacting Ms Miller at 447-9311 for more information on ways to help.