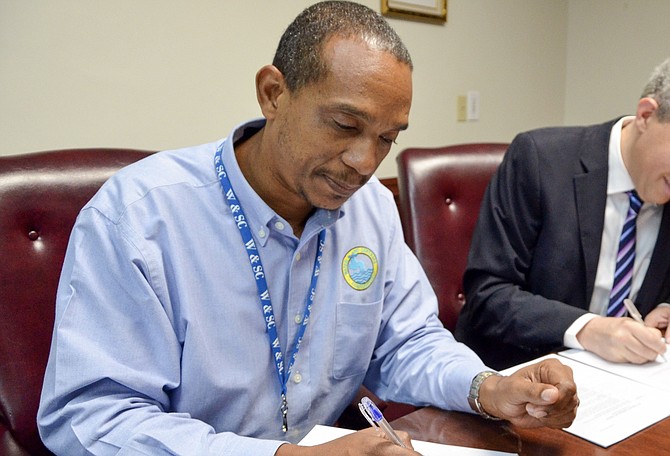 By KHRISNA RUSSELL
Deputy Chief Reporter
krussell@tribunemedia.net
Former Water and Sewerage Corporation's general manager Glen Laville has filed a lawsuit against the corporation alleging unfair dismissal, Attorney General Carl Bethel confirmed yesterday.
Because the water provider is a "stand-alone" corporation, other government defendants were removed from the action, Mr Bethel told The Tribune.
Works Minister Desmond Bannister added that to his understanding, the former WSC executive claimed "wrongful dismissal" in his lawsuit.
However, neither Cabinet minister would give further details.
Mr Laville, The Tribune was told, is seeking court intervention to quantify how much money he should be awarded for the alleged wrongful dismissal.
Back in March, Mr Laville was fired as WSC general manager in the wake of an Ernst & Young forensic audit.
At the time, WSC executive chairman Adrian Gibson confirmed the termination was unanimously decided with immediate effect.
Tribune Business reported that a number of WSC board directors met with Mr Laville in a bid to follow "due process", and inform him of his fate, which was sealed by the EY findings.
Mr Laville's firing was the first tangible action in the fall-out from the EY report, which disclosed how too much politically-motivated interference and the 'friends, family and connections' network had undermined basic corporate governance and established protocols.
This resulted in multi-million dollar losses and cost overruns that, ultimately, have to be covered by Bahamian taxpayers.
Mr Laville had previously told The Tribune he disputed numerous findings of the EY report against him while arguing that the report's disclosure had caused morale at WSC to plummet.
EY's investigators found that Mario Bastian, a "close friend" of Mr Laville, secured a $3.2 million contract with the corporation despite being fired twice. The auditors concluded that the tendering process for the contract gave the appearance of bid manipulation, and noted that the company, ACO JV, was awarded the contract despite displaying characteristics that had disqualified other potential vendors.
Mr Laville said he lacked the power to ensure anyone is awarded such a contract, noting that such decisions are made by the Cabinet after input by Water & Sewerage Corporation's board.
He added that the contract was approved by the Caribbean Development Bank (CDB) as well, although EY's report showed the CDB rarely dissents when government officials recommend someone to receive a contract.
Mr Laville also questioned the relevance of a communication highlighted in the report between him and Dave Taylor, a surveyor who performs services for WSC as a sub-contractor.
In the correspondence, Mr Taylor wrote to Mr Laville: "Can I stop in to drop off the cash to you now?"
Mr Laville told investigators the message referred to membership dues for the Bahamas Association of Land Surveyors, for which he is treasurer.
EY, however, said Mr Laville provided no documentation supporting that the money was deposited in BALS' bank account.
Mr Laville said: "I advised that going to the bank to deposit $100 doesn't make any sense. I don't go to the bank and deposit it every time I get a membership dues. Furthermore, it was just $100, to even raise it as an issue…
"I admonished the auditors not to make conclusions and seek information to support it. By the inference that somehow this was an improper activity or whatever, in this small country, it would call into question any time anyone anywhere brought me membership dues."
Mr Laville and his attorney did not give a comment to The Tribune on the lawsuit despite multiple requests.