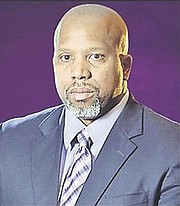 By NEIL HARTNELL
Tribune Business Editor
nhartnell@tribunemedia.net
The Government has eliminated the need for companies to provide upfront proof of National Insurance Board (NIB) compliance before they can obtain business licence renewals.
Marlon Johnson, pictured, the Ministry of Finance's financial secretary, confirmed to Tribune Business that the Minnis administration has ended "one of the major issues of contention" for the private sector in time for 2019's renewals.
He warned, though, that companies are "not off the hook" when it comes to being current with NIB contributions, as compliance checks have now moved "from the front end to the back end".
Mr Johnson said the ministry remains firm in not issuing business licences to firms that are delinquent on their social security contributions, and promised that the Department of Inland Revenue will be constantly checking with NIB to identify those that are non-compliant.
He spoke out after Tribune Business was informed that NIB was telling businesses who approached it that they no longer need to obtain "letters of good standing" to accompany business licence renewal filings and payments.
Rick Lowe, Nassau Motor Company's (NMC) operations manager/director, told Tribune Business: "Another positive development. NIB informed us, after standing in line, that they will notify the Ministry of Finance of the companies that are not up-to-date. No more NIB letter of compliance. Yay!
"Don [Clarke] went to NIB and they said: 'You don't have to get a letter of good standing any more. That's a good thing. It saves a lot of time. It's an aggravator. Last year Don had to make three trips there for it. It's just cost savings and time savings - good news for a change."
Bahamian businesses have grown increasingly frustrated in recent years with the Government's inefficient, cumbersome approvals processes, many of which remain paper-based amid the lack of electronic (Internet) connectivity between different agencies and departments and with the private sector.
A regular complaint has been the need to visit, and obtain, approvals from multiple agencies to gain key permits such as the Business Licence, all of which costs companies time and money, and undermines the "ease of doing business" in The Bahamas.
NIB 'letters of good standing' have been among biggest issues, given the difficulties many companies experience in obtaining them - as illustrated by Mr Lowe. Mr Johnson, though, said eliminating the need for this document is just one of a wider package of reform measures the Government plans to enact imminently.
"As the Government has promised, we have been taking some concrete steps to make it easier for businesses to go through the Business Licence process," he told Tribune Business. "This [the NIB letter elimination] is one element of it.
"We'll make some announcements on it in due course. That's one of the steps we're taking. We haven't made the announcement yet, but intend to make businesses aware of that shortly. We've made a commitment to making it easier to do business, and since the beginning of the calendar year we've been exploring ways to make it easier for people to get into business, to get their Business Licence."
Mr Johnson admitted that NIB 'letters of good standing' have been "one of the major issues of contention" when it comes to the ease of doing business, and added: "We believe we can do it much more efficiently administratively.
"Instead of having businesses do that on the front end, we will do that on the back end to determine if businesses are compliant. That was one we realised we could do very readily at the back end. "
However, he warned: "This does not get businesses off the hook to be compliant with NIB. We are working with NIB to get information on delinquent businesses upfront. We will check when businesses come in against the information we have and not extend Business Licences to persons who the data indicates are non-compliant.
"It's incumbent, before businesses come to us for Business Licences, to ensure they're compliant with NIB if they have reason to think they're not." The timely, and full, payment of due NIB contributions has been a regular compliance issue for The Bahamas' national social security system.