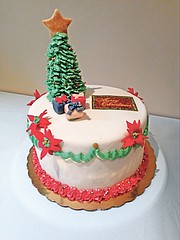 By ALESHA CADET
Tribune Features Reporter
acadet@tribunemedia.net
For Katisha Corneille it is an euphoric experience to see simple ingredients like flour, sugar, butter and eggs come together to create delicious masterpieces.
The entrepreneur started her Cake Me If You Can company two years ago, but her passion for baking was ignited long before that. As a child she loved watching her late grandmother Varian Carey-Pople bake bread "like it was nobody's business."
"This woman never had one measuring spoon or a measuring cup, yet everything always came out the same every time: delicious. Grammy was the breadwinner of the house – no pun intended – so along with being a hotel worker, she came home and baked bread to earn an extra income to take care of us. Knowing that my Grammy was tired after a long shift from the hotel and still fulfilling her orders of Johnny bread, coconut tart, white bread, hot cross buns and so on, I stayed up late with her to keep her company. I admired and love my Grammy for what she did," Katisha told Tribune Weekend
As she became older, Katisha encouraged her grandmother to open her own business, but like most people, her grandmother had was held back by concerns over sustainability and profitability. Katisha said she did not want to make the same mistake.
"I told myself that I would not sit on my talent and that I would share it with the world. About two years ago I began jotting down ideas, recipes and so forth down in my plan book. There were various failed attempts at designs and recipes. Then as time went on, cake after cake, I became a little better. I had previously done some cakes for family and friends and decided to put them on Facebook. My heart was racing faster than a cheetah and my palms almost short-circuited the laptop. When I clicked 'post' I closed my eyes. Then suddenly I received my very first order. It was a beach-themed cake for an anniversary. I prayed like a sinner in church, asking God to guide my hands to design this cake so that I do not become the laughing stock of Facebook. With that said, my recipe succeeded, the customers were pleased and soon referred their friends to me. Then it just took off from there," she said.
Katisha admitted to being nervous at first, entering into an industry with so many competitors. But with the encouragement of her husband McAlex Corneille, sermons by the late Dr Myles Munroe and prayer, she gained the confidence to take that important leap of faith.
"In this field it goes far beyond the pretty and tasty cakes that you see as the end result. There is dedication to planning and paperwork; the dreaded words of mostly every business owner. Until you become a business owner you will never understand or appreciate how much effort is poured into assuring your dream becomes a reality. Nonetheless, this ride has been an eye-opener, an emotional roller coaster and sifter of separating your weak characteristics from the strong. It has certainly given me tougher skin when it comes to dealing with various personalities in both my professional and personal life," said Katisha.
Today, Cake Me If You Can offers a variety of treats in various flavours in the form of six-inch, eight-inch, 10-inch or 12-inch round or square cakes. The available flavours include, but are not limited to, classic pound cake, chocolate, vanilla, white wedding cake, pink champagne, carrot cake, rum cake, red velvet, pumpkin, Baileys n' cream (chocolate or vanilla), cookies n' cream, cheesecakes (cherry, blueberry, guava, pineapple, pumpkin, cookies n' cream), and the most requested, pina colada (a combination of coconut and pineapples). These flavours are also all available for cupcakes. Then there are the cookies: classic sugar cookies, classic chocolate sugar cookies, chocolate chip, cookies n' cream, peanut butter and more.
"Despite the name, we are not limited to cakes. You can indulge in apple pies, cinnamon rolls and a list of other pastries. It is recommended that orders be placed at least four days in advance. For those who love to impress their kids with cartoon characters, we also have edible images that can be placed on cakes or purchased separately," said Katisha.
Also, during this busiest season of the year, Cake Me If You Can is offering special Christmas-themed treats that can help sweeten any staff or private party; flavours include fruit cake, carrot cake, pina colada, rum cake, chocolate cake, red velvet, cheesecake, and more.
Her goal is to eventually outgrow her current home-based location and have Cake Me If You Can have its own brick and mortar store. She also hopes to cater to those who prefer gluten-free, vegetarian and healthier alternatives.
"Cake Me If You Can is using the remainder of the year to regroup, reevaluate and reorganise to become bigger and better for next year. We have been offered opportunities to become a part of other functions, but sometimes you simply cannot do any and everything. On that note, that goes for your skill as well. If you cannot do something and you know within your heart it is not for you, don't force it, stick to what you know. Trust me, your customers will appreciate you for your uniqueness rather than you trying to do everything," said Katisha.
Check you Cake Me If You Can on Facebook.