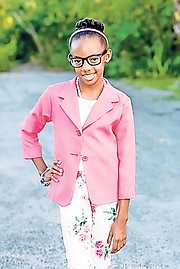 Karis Knowles, the 11-year-old "Balloon Princess", has fulfilled yet another one of her promises by donating to the fight against breast cancer in the Bahamas.
The young entrepreneur first came to the public's attention in March this year when she launched her balloon business.
The Balloon Princess, a spin-off from her grandmother's party rental company Premier Party Rentals, has garnered a lot buzz in recent months, thanks in part to Karis' philanthropic efforts.
"I was inspired by my grandmother (Stephanie Dawkins) to start my balloon business. She has a party rental company and people would call and ask for balloons, but she did not offer that service. After a few calls for balloons I got the idea to start a my own balloon company," she told Tribune Weekend.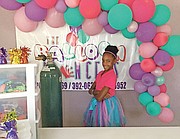 Karis is a sixth grade honour roll student of Temple Christian Elementary School.
"My primary clients are my schoolmates and friends and family," she said. But her customers have also included Fidelity Bank, CIBC FirstCaribbean Bank and PricewaterhouseCoopers.
When it comes to juggling her balloon business and school work, Karis keeps things balanced by doing homework first and the balloons after.
"When it gets really busy my mom and grandmother will assist," she added.
During the month of October, Karis sold balloons to the pre-school students of Temple Christian School at $2 each with an intention of donating 50 percent of of those sales to the Sister Sister Breast Cancer Support Group. However, after two weeks of balloon sales, she ran out of helium.
When she sought replenishment from a local distributor, it was confirmed that there was no helium available on the island for purchase. A disappointed Karis attempted to sell balloons filled with regular air, however, those were not appealing to the children.
Nonetheless, throughout the remainder of October The Balloon Princess received orders for designs that did not require helium. In an effort to reach her targeted goal of $500, Karis decided to use a portion of the proceeds from all October balloon sales as her donation to the breast cancer awareness initiative.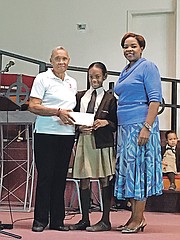 After a successful month of producing balloon designs, Karis reached her target and was able to present a cheque to the Sister Sister Breast Cancer Support Group in November. The presentation took place at the school's weekly chapel service on November 29, 2018.
After the presentation was made, Andrea Sweeting of Sister Sister gave brief remarks to the student body, expressing her gratitude for the valuable and timely donation. She further mentioned that in addition to assisting with the mental and spiritual needs of breast cancer patients, financial assistance is also offered through the purchase of port-a-caths, a medical device used by oncologists to administer chemotheraphy. Each port-a-cath costs $500. During 2018, the group has been able to provide 179 port-a-caths to patients, and with the donation from Karis and her schoolmates the total will be increased to 180.
When asked why she chose the Sister Sister Breast Cancer Support Group as her charity of choice, Karis said she was inspired to donate to the group in honour of her great-grandmother Maria McPhee and one of Temple Christian's former teachers, Marilyn Darling. Both women lost their battle with cancer. Now, as a result of Karis' $500 donation, one fortunate woman will be given a second chance at life.
Stacy Dean, Karis' mother, said she is proud of her daughter's accomplishments and civic-mindedness.
"Her drive and determination is an inspiration to our entire family, especially her paying homage to my grandmother while donating to charity. I will continue to support her endeavours and it is my prayer that God will continuously bless her efforts with success," she said.