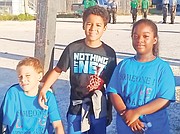 After seeing her grandmother struggle to monitor her glucose levels, 10-year-old McKayla Knowles was inspired to raise funds to help people living with diabetes.
McKayla attends Laura L Anderson Primary in The Bluff, Eleuthera and hosted a walk-a-thon in North Eleuthera for diabetes awareness last month.
She was able to raise $1,300 to purchase glucose machines and strips for people in need.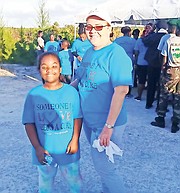 During and after the walk-a-thon there were nurses on-site testing people's glucose levels.
McKayla said: "My grandmother is a diabetic and I always see her struggle with it. She talks about not having strips for her glucose machine and then if she does have strips the machine is not working."
Participants of the event included members of the community, the principal and teachers of the Laura L Anderson school, and McKayla's classmates, the administrator for North Eleuthera, GGYA members and Rangers of the Royal Bahamas Defence Force (North Eleuthera).
McKayla said she was very pleased with the response and turnout for the walk-a-thon.
"I look forward to doing this next year and help as much as I can," she said.
McKayla also wanted to all the sponsors of the event.