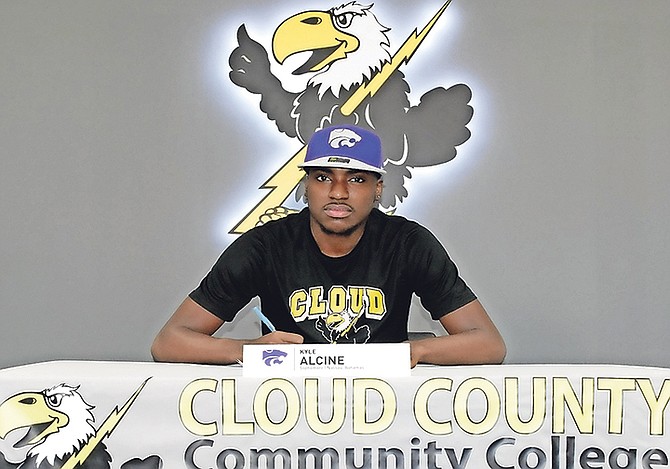 By BRENT STUBBS
Senior Sports Reporter
bstubbs@tribunemedia.net
CLOUD County Community College sophomore Kyle Alcine, one of the rising young high jumpers in the country, has decided to stay in Kansas following his graduation in the spring and will be taking his talent to Kansas State University.
"It was a long process, but I just felt the coaching there will be more suitable for me," said Alcine on his signing day on November 16. "I'm wanting to become a professional track athlete after school, so that's why I chose K-State."
Here at home for a few days to relax and enjoy the Christmas holiday before he heads back to Kansas for his first meet January 12-13 at the Graduate Classic in Lincoln, Nebraska, Alcine said he turned down offers from a number of schools, including Oregon and Purdue where there is a Bahamian connection led by head coach Norbert Elliott.
"I felt good about coach Cliff Rovelto and what he brings to my event," Alcine told The Tribune about his decision to join the Wildcats Athletic Programme, headed by Rovelto, the director of track and field at Kansas State University for the past 27 seasons.
Alcine, a die hard Valley Boys fan, said he was delighted to be home to enjoy the festive season with family and friends and enjoy the junkanoo celebrations. He said he's eager to get back to Cloud County Community College to prepare for his transfer to K-State next year.
"We're really excited to see what K-State can do with Kyle," said Cloud County assistant track coach Drew Mahin. "Coach Rovelto is one of the most respected and accomplished high jump coaches in the sport, so Kyle couldn't have picked a better school for his event and we're very proud of him."
Alcine was a two-time national placer his freshman season in the high jump, posting a mark of 6'10.75 during the indoor season to finish seventh overall, then 6'9.75 at the outdoor championships to earn sixth place.
His best mark of the season came during the 2018 Indoor Region VI/KJCCC Championships as Alcine won the event with a personal record leap of 7'1, helping the T-Birds to a first-place finish in the KJCCC West and runner-up finish in the region.
"I think Kyle is the ultimate competitor when it comes to competitions. He's always able to step up his level of focus and performance when it matters the most," Mahin said. "We saw that last year at the indoor Region VI/KJCCC Championships. He performed his best jump of the year at that point. He's fought through some injuries and I think that will only make him a stronger athlete in the future, dealing with adversity at the next level."
Alcine, 19, said he's looking forward to performing next year.
"I'm in great shape and so I'm looking forward to competing with the big guys again," said Alcine about the Bahamian quartet of high jumpers, including national champion Donald Thomas, runner-up Jamaal Wilson, Trevor Barry and Ryan Ingraham. "The good thing about is that I have the inside track on all of them. Me and Jamaal are good friends, me and Donald talk occasionally, so I know how they train, so I hope to incorporate what they do with my college training. I could have the edge on them."
While at home, Alcine worked out under the supervision of his local coach Keno Demeritte.
At Cloud County Community College, Alcine share the track and field platform with Bahamian female sprinters Chanice Forbes and Kenisha Stubbs and thrower Kelle Stubbs, all in their sophomore season.
They will all compete through the National Junior College Athletic Association's National Championships in May, once they qualify in their respective events, before they are done at Cloud County Community College.